Details: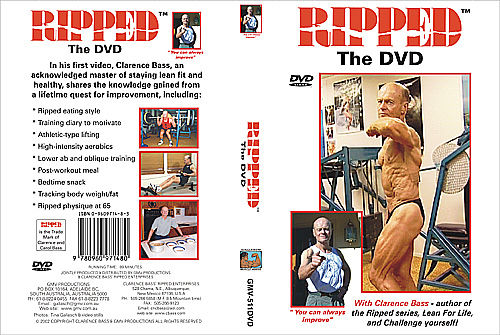 Ripped The DVD - With Clarence Bass
In his first DVD, RIPPED #1, Clarence Bass, an acknowledged master of staying lean fit and healthy, shares the knowledge gained from a lifetime quest for improvement, including:
* Ripped eating style.
* Training diary to motivate.
* Athletic-type lifting.
* High-intensity aerobics.
* Lower ab and oblique training.
* Post-workout meal.
* Bedtime snack.
* Tracking body weight/fat.
* Ripped physique at 65.
Clarence Bass, the living embodiment of the word "Ripped", has achieved unprecedented levels of lean muscularity through healthy living. Winner of his height division in the "Past - 40" Mr. America and Mr. USA (and "Best Abdominals", "Best Legs" and "Most Muscular", as well), his image and his principles of diet and exercise have led people around the world to stronger and healthier lives. This DVD shares with you his secrets.
In 2003 Clarence Bass was the special Guest of Honor at The Association of the Oldetime Barbell and Strongmen Historic 20th Annual Reunion and Dinner in New Jersey.



Running Time: 95 mins

* Available in NTSC DVD Only (Region Free)
* THIS DVD WILL PLAY ON ANY DUAL SYSTEM NTSC / PAL DVD PLAYER AND TV. Or any PC DVD.