Details: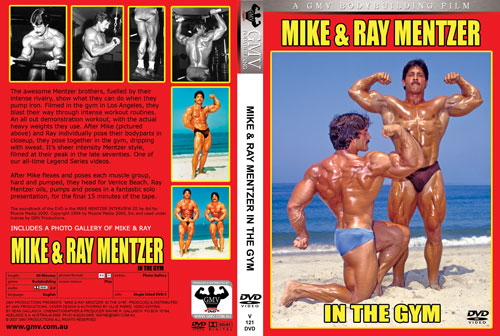 Mike & Ray Mentzer: In The Gym

The awesome Mentzer brothers, fuelled by their intense rivalry, show what they can do when they pump iron.

Filmed in the gym late at night, they blast their way through display workout routines with heavy weights which are a little less than they would normally use!!
Mike and Ray each go through their most incredible workouts, muscles dripping with sweat - the intensity, muscle display and sheer power will shock you!

After Mike flexes and poses each muscle group, hard and pumped, they head for Venice Beach. Ray Mentzer oils, pumps and poses in a fantastic solo presentation, for the final 15 minutes of the tape.
This video V-121 was shot on silent super 8 film back in July 1978 while Mike and Ray were working out in the gym. It was not just a staged pump-up. At that time no one deemed them worthy of a full professional 16mm film production complete with sound and a big budget in order to do it the way some videos are shot today. Back then I had the foresight and luck to get the 2 guys into the gym and record as much as I could afford to do with the technology available at the time. This was about 4 years before home video cameras came onto the world market.
Due to the high cost of film and developing in the seventies, it was not possible to shoot lots and lots of reels of film, recording more sets or more exercises. But this rare documentary is the only known footage showing Mike and Ray actually working out. Mike's seminar was later licensed to be used as a soundtrack to the film when it was converted to video.
If only we had the technology available then to shoot something like the Dorian Yates or Ronnie Coleman DVDs of today. It is also worth mentioning that not a single workout film was shot with Arnold Schwarzenegger back in his competition days! Workout films as we know them today were almost never made back 27 years ago.

We also offer 2 other DVDs on Mike Mentzer.

Running Time: 65 mins
* Available in NTSC DVD Only (Region Free

)
* THIS DVD WILL PLAY ON ANY DUAL SYSTEM NTSC / PAL DVD PLAYER AND TV. Or any PC DVD.