Details: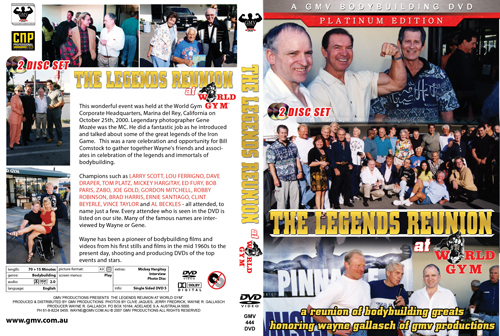 THE LEGENDS REUNION AT WORLD GYM - 2 DISC SET
"A REUNION OF BODYBUILDING GREATS HONOURING WAYNE GALLASCH"
This wonderful event was held at the World Gym Corporate Headquarters, Marina Del Rey, California on October 25th, 2000. Legendary Gene Mozée was the compere as he introduced some of the great legends of the Iron Game. This was a rare celebration and opportunity for Bill Comstock to gather together Wayne's friends and associates in celebration of the legends and immortals of bodybuilding, thanks also to the kindness of Joe Gold.
Champions such as LARRY SCOTT, LOU FERRIGNO, DAVE DRAPER, TOM PLATZ, MICKEY HARGITAY, ED FURY, BOB PARIS, ZABO, JOE GOLD, ROBBY ROBINSON, BRAD HARRIS, ERNIE SANTIAGO, CLINT BEYERLE and AL BECKLES - to name just a few. Every attendee is listed in the DVD and many are interviewed by Wayne or Gene. Wayne has been a pioneer of bodybuilding films and videos from his first stills in the mid 1960s to the present day.
*** On Sept. 3, 2007 there will be a ceremony at Muscle Beach to create a "Walk of Fame" for Body Builders. They are going to give Mickey Hargitay a Tribute on Labor Day with a plaque on the "new" Walk of Fame". They will also honor Jack LaLanne with a Lifetime Achievement Award.
EXTRAS:
Includes an interview with MICKEY HARGITAY, 15 minutes.
We include our complete and extensive collection of reunion photos taken by Jerry Fredrick, Clive Jaques and Wayne Gallasch. As far as we can tell, every single attendee is included in the photos!
Disc #1 is the complete Reunion video. Running time: 70 minutes plus extra scenes 15 minutes. TRT: 85 minutes.
Disc #2 is a 450 photos VCD which runs 29 minutes as a slide show.
TRT: 114 mins
Many thanks to the sponsors, who were:
World Gym
Iron Man Magazine
Ivanko Barbell Co. Tom Lincir
Met-Rx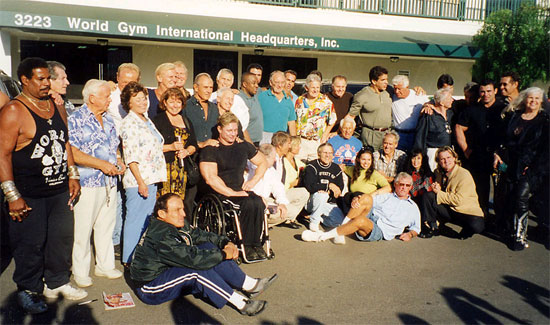 Part of the crowd who attended. Photo by Clive Jaques. Special thanks also to Jerry Fredrick who took many photos for Wayne.
The Photo Gallery in the DVD includes photos showing every single person who attended with photos by Fredrick and Jaques.
Also my thanks to JOE GOLD for allowing me to hold my reunion at his WORLD GYM. See Joe right of center, blue T-shirt.

Running Time: 115 mins

* Available in NTSC DVD Only (Region Free)
* THIS DVD WILL PLAY ON ANY DUAL SYSTEM NTSC / PAL DVD PLAYER AND TV. Or any PC DVD.