Details: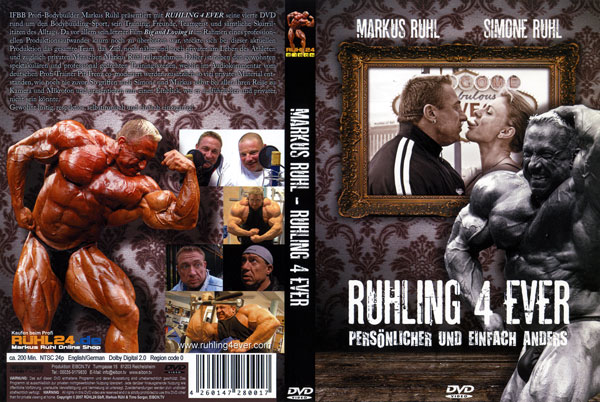 Markus Ruhl - Ruhling 4 Ever PAL DVD / GERMAN SOUNDTRACK ONLY
This DVD continues on where "Markus Ruhl - Big and loving it" finished off!

"Big and loving it" continued in the similar cinematic style of "Markus Ruhl - Made in Germany" and shows the insanely freaky physique, the great sense of humour as well as the very intimate and emotional moments in the life of IFBB Pro Bodybuilder Markus Rühl. Ruhling 4 Ever is even more personal and more hard hitting than ever before.
See Markus, assisted by his training friends and his wife Simone, as he blasts his way through massively brutal multi set workouts in his never ending quest for perfection. Once again the DVD captures the "drama" and "comedy" that takes place during training including banter in German of course including off the cuff comments and jokes.
THE GOOD NEWS
The DVD does plays perfectly in the DVD drive of ALL COMPUTERS WORLD WIDE. You can at least view it this way in your computer.
Regarding the German soundtrack, do not be too worried in that the visual images of Markus are more than enough to entertain you without listening to the German chat! If you do speak German, then this is a bonus.
NOW FOR THE BAD NEWS
The DVD is in the PAL European DVD system ONLY, and will NEVER be put to NTSC DVD for NTSC countries such as USA, Japan etc.
It is 100% German soundtrack only, with no English and no dual language version planned.
Accordingly the DVD WILL NOT PLAY IN THE NTSC DVD PLAYERS FOUND IN USA OR OTHER NTSC COUNTRIES!

*** No returns, exchanges or refunds, as we are being totally up-front over the playing of this PAL ONLY DVD!
Let me say again, due to the massive cost of adding a separate English soundtrack, then re-authoring the whole project to NTSC, it has been decided that there will not be any English/dual language NTSC version produced.

If you buy this DVD you are agreeing that you understand these facts and that no return or refund will be possible.

If you are a hardcore MARKUS RUHL fan, then be prepared to watch this awesome DVD, but maybe on your computer monitor only!



Running Time: 200 mins

* Available in PAL DVD Only (Region Free)
* THIS DVD WILL PLAY ON ANY PC DVD PLAYER.