Details: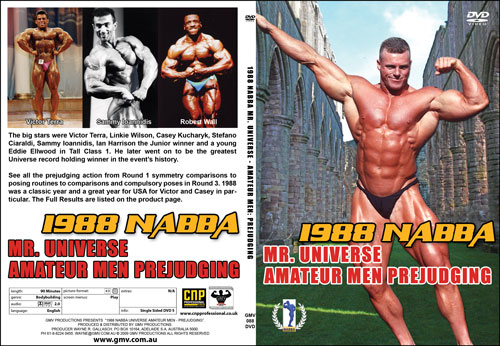 1988 NABBA AMATEUR UNIVERSE: THE MEN - PREJUDGING

Expanded and re-edited and digitally re-mastered COLLECTOR'S EDITION. NOW INCLUDES 43 MINS OF NEW MATERIAL.

The big stars were Victor Terra, Linkie Wilson, Casey Kucharyk, Stefano Ciaraldi (Italy), Sammy Ioannidis, Ian Harrison, a young Eddie Ellwood (U.K.) - pictured above front cover, Pete Moen (U.S.A.) and many more top names.

See all the COMPLETE prejudging action from Round 1 symmetry comparisons to posing routines to comparisons of compulsory poses in Round 3. 1988 was a classic year and a great year for USA in particular, see the RESULTS below.

In the original edit, the JUNIOR CLASS was omitted due to time constraints in the Master DVD tapes of that time. Now you can see the complete and exciting JUNIOR CLASS, brilliantly won by IAN HARRISON. Ian later went on to become a top IFBB Professional who also competed in the Mr. Olympia contest before going into Pro Wrestling. See IAN'S COMPLETE CONTEST HISTORY BELOW.

In total we added 43 minutes of new material including the Junior Class and some extra Round 3 comparisons from the Open Classes.

Also available THE MEN - THE AMATEUR SHOW from this event, GAMM-089DVD.

For the 1988 NABBA Professional Mr. Universe, Prejudging & Show, GAMM-081DVD. The Pro Universe was staged as a completely separate event.

1988 NABBA Amateur Mr Universe - Results:

Overall Amateur Mr. Universe Winner: Victor Terra - USA

THE MEN
CLASS 1 (TALL)

1. Linkie Wilson (UK)
2. Gary Lewer (Aust)
3. Owen Neil (UK)
4. Eddie Ellwood (UK)
5. Jefferson King (UK)
6. Pete Moen (USA)
7. Shaun Davis (UK)
8. Markus Muller (Germany)
DNP:
Charles Lotter
Erwin Bran
Jackson Njue
Lionel Kearns
Jan Van Roy
Alan Yates

CLASS 2 (MEDIUM)

1. Casey Kucharyk (USA)
2. Stefano Ciaraldi (Italy)
3. Simon Lancaster (UK)
4. Claudio Mostacci (Italy)
5. Tony Francis (UK)
6. Werner Schneider (Germany)
7. Graeme Corner (UK)
8. Kevin McNamara (South Africa)
DNP:
Darryl Anderson
Eddy Van Laer
Enzo Giuffre
J. P. Valmier
Josef Adler
Brendan Surgeoner
Roy Martin

CLASS 3 (SHORT)

1. Victor Terra (USA)
2. Sammy Ioannidis (Australia)
3. Robert Wall (UK)
4. Gunther Osweiler (Germany)
5. Terry Fisher (UK)
6. Terry Phillips (UK)
7. Adrian Stones (UK)
8. Max Pangerl (Austria)
9. Leonard Pacino (France)
DNP:
John Dankaert
Ralph Piers
Bruce Leong
Kevin Duggan

JUNIOR MR. UNIVERSE

1. Ian Harrison (UK)
2. Leonard St. Cyr (UK)
3. Enrico Salviot (France)
4. Shannon Monroe (USA)
5. Mario Santarelli (Italy)
6. Graeme McLean (UK)

Ian Harrison Contest History:
Height 5'10"
Weight 258lbs
Born January 3, 1969 in England, UK

1988
NABBA Mr Britain, Junior, 1st
NABBA Mr Universe, Junior, 1st
NABBA Super Body Power Classic, Junior, 1st (GMV-084DVD)

1989
IFBB British Championships, HeavyWeight, 1st
IFBB British Championships, Overall Winner

1993
IFBB Grand Prix England, 6th (GMV-171DVD)

1994
IFBB Chicago Pro Invitational, 8th
IFBB Night of Champions, 10th

1995
IFBB Arnold Classic, 7th
IFBB Grand Prix England, 6th (GMV-214DVD)
IFBB Grand Prix Germany, 7th
IFBB Grand Prix Spain, 8th
IFBB Mr. Olympia, 14th (A-0837DVD)
IFBB San Jose Pro Invitational, 3rd

1997
IFBB Arnold Classic, 11th
IFBB Iron Man Pro Invitational, 10th (V-094DVD)
IFBB San Jose Pro Invitational, 8th

1998
IFBB Arnold Classic, 9th

Running Time: 135 mins

* Available in NTSC DVD Only (Region Free)
* THIS DVD WILL PLAY ON ANY DUAL SYSTEM NTSC / PAL DVD PLAYER AND TV. Or any PC DVD.