Details: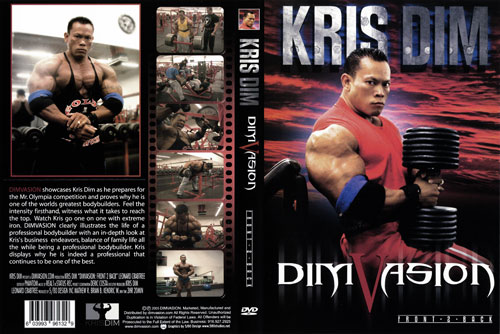 Kris Dim - Dimvasion

He is now established as one of the top pro bodybuilders in the world and the best Asian bodybuilder of all-time, as well as a successful businessman and family man, but in the beginning the odds were stacked against Kris Dim. He was born on May 7, 1973 in the war-ravaged and impoverished land of Cambodia, where one out of every four citizens died under a barbarous dictatorship.

When Dim was four he escaped with his family, immigrating to America. A refugee, he quickly grew to love his new country. Dim and his family lived for eight years in Arlington, Virginia. Then, when he was 12, they moved to Northern California, eventually settling in Sacramento, where he has remained ever since. He played soccer throughout his youth, but it was wrestling in high school that introduced the 98-pounder to bodybuilding.
Dim first lifted weights at home, but when he was 15 he joined a commercial gym. Noting his mass improvements, Dim's wrestling coach suggested he try a bodybuilding show. At 17, he entered and won his first contest, the teenage division of the North Bay Bodybuilding Championships. A year later, he won the Teenage California. When Dim won the middleweight class of the 1996 California Bodybuilding Championships, he was introduced to one of the sponsors, Max Muscle stores. "I didn't know what they were, but when I found out, I just knew right away what I wanted to do. I wanted to own one," Dim declares.

When he inquired about a franchise, it seemed an idle fantasy to everyone but him. He had very little savings, he was attending college, and he and future wife, Sylvia, were expecting their first child. Still, Dim wouldn't be deterred. He quit school and took on a second full-time job. Less than a year after he first heard of Max Muscle, Dim had saved enough to open his own Sacramento franchise. He was 23. He managed the store from opening to closing. My biggest fear is failure, Dim explains, and because of that, I always motivate myself twice as hard. The store thrived. Today, Dim continues to keep the same long hours behind the counters, wedging his bodybuilding into the time not occupied by his family and his business.
When 24-year-old Dim finished sixth in the middleweight class of his first pro qualifier, the 1997 USA Championships, he was confident his hobby would soon become a profession. Little did he know then it would take 10 additional tries before he earned pro status. In 2002, Dim came in leaner and fuller and won the light-heavyweight class of the USA Championships. Many felt his was the most impressive physique in the show, but he failed to take home one of the two pro cards. Next came two second-place finishes, at the 2002 Nationals and again at the 2003 USA.

The 2003 Nationals was a blowout, with Dim easily winning the light-heavyweight class and a pro status. The only controversy was his not taking the overall title. In 2004, Dim accomplished the rare feat of qualifying for the Mr. Olympia in his first IFBB contest (the San Francisco Pro Invitational). He then went on to establish himself as rookie of the year with a twelfth place finish in the Mr. O and three straight posedown finishes in the European Tour, qualifying for the 2005 Mr. Olympia.
For unfaltering support, Dim credits his wife, Sylvia; sons Joshua and Nathan; half-sister Julie; nutritional advisor Milos Sarcev; and training partner/business mentor Leonard Crabtree. In the end though, Dim's drive to succeed as a bodybuilder and businessman comes from somewhere deep inside, born somewhere far away a never-ending quest for betterment. In only his rookie year in the IFBB, he beat such established pros as Gustavo Badell, Ahmad Haidar, Troy Alves and Markus Ruhl. The Dimvasion of the pro ranks has begun. Considering how far he's already come against such great odds, there's no limit on how far Kris Dim can go in the future.



Running Time: 200 mins

* Available in NTSC DVD Only (Region Free)
* THIS DVD WILL PLAY ON ANY DUAL SYSTEM NTSC / PAL DVD PLAYER AND TV. Or any PC DVD.