Details: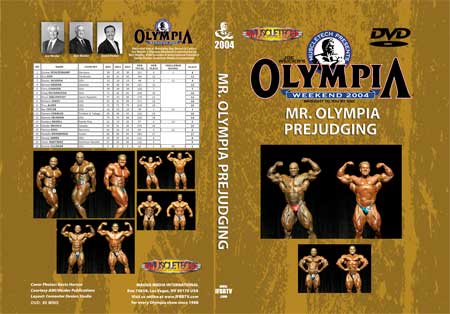 2004 Mr. Olympia - Prejudging
DVD version - 2004 Mr. Olympia Prejudging is now available as a single DVD!! See all the comparisons and work out why the fight between Ronnie Coleman and Jay Cutler was so close. But what abour Dexter versus Gustavo Badell. You be the judge.
You get it all - this complete 90- minute DVD is a must for the hard-core fan, including your own comparison of the 19 athletes full-body display of the 8 compulsory poses.

2004 Mr. Olympia Results
October 30, 2004 at Las Vegas, Nevada
The new 'Challenge Round' was introduced, changing the way the final top six were scored in the last round. The top six competitors scores were discarded after round three, and only the final round mattered in who would win. In the new format, Dexter was the loser, and Gustavo was the winner. The difference was worth $10,000. Ronnie still was the clear winner.

1 Ronnie Coleman USA
2 Jay Cutler USA
3 Gustavo Badell Puerto Rico
4 Dexter Jackson USA
5 Markus Ruhl Germany
6 Gunter Schlierkamp Germany
7 Chris Cormier USA
8 Dennis James USA
9 Victor Martinez Dominican Republic
10 Darrem Charles Trinidad
11 Pavol Jablonicky Czech Rep
12 Kris Dim USA
13 Ahmad Haidar Lebanon
14 Johnnie Jackson USA
15 Troy Alves USA
16 Craig Richardson USA
17 Mustafa Mohammad Jordan
18 Richard Jones USA
19 Claude Groulx Canada

Running Time: 95 mins

* Available in NTSC DVD Only (Region Free)
* THIS DVD WILL PLAY ON ANY DUAL SYSTEM NTSC / PAL DVD PLAYER AND TV. Or any PC DVD.