Details: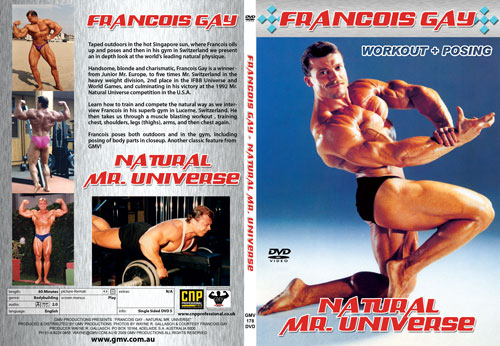 Francois Gay - Natural Mr. Universe: Gym Workout Plus Posing

See our handsome muscular star as he poses outdoors, drenched in sweat in the hot Singapore sun. Firstly Francois oils up and poses poolside at his hotel before turning it on for our camera. Next the scene moves to Switzerland to catch up with Francois in his own gym. Here we get an in-depth look at the world's leading natural physique as he trains and poses each body part.

Handsome, blonde and charismatic, Francois Gay is a winner - from Junior Mr. Europe, to five times Mr. Switzerland in the heavy weight division, 2nd place in the IFBB Universe and World Games, and culminating in his victory at the 1992 Mr. Natural Universe competition in the U.S.A.

Learn how to train and compete the natural way as we interview Francois in his superb gym in Lucerne, Switzerland. He then takes us through a muscle blasting, gut-busting workout, training chest, shoulders, legs (thighs), arms, and then chest again. If you are into big arms, then this DVD is for you!

Francois loves to pose and poses both outdoors and in the gym in this one hour intense feature, including posing of each body part in close-up. Singapore posing and gym photos by Wayne Gallasch and other photos courtesy of Francois Gay. Special thanks to Hans Hadorn for introducing us to Francois and helping to set up this DVD.

Running Time: 65 mins

* Available in NTSC DVD Only (Region Free)
* THIS DVD WILL PLAY ON ANY DUAL SYSTEM NTSC / PAL DVD PLAYER AND TV. Or any PC DVD.