Details: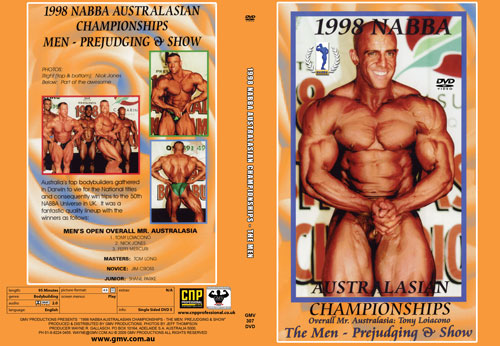 1998 NABBA AUSTRALASIA: THE MEN - PREJUDGING & SHOW
The top bodybuilders of Australia gathered on 12th September in Darwin, Northern Territory to vie for the National titles and consequently win trips to the 50th NABBA Universe in the UK. The venue was the huge Marrara Sports Stadium in Darwin.

See the complete contest from the beginning of PREJUDGING through to the complete posing routines, posedowns and awards at the SHOW.

The quality was quite outstanding with the winners as follows. TONY LOIACONO was the OVERALL MR. AUSTRALASIA WINNER.
MEN'S OPEN & OVERALL MR. AUSTRALASIA RESULTS:
1. Tony Loiacono - Also Class 1 & Overall Winner
2. Nick Jones
3. Peppi Mercuri - Class 4 Winner
4. Tom Long - Class 2 Winner
5. Don Mahoney
6. Armando Menezes
7. Warrick Simmonds
8. Kon Mu - Class 3 Winner
9. Mick Karl

NOVICE CLASS
1. Jim Cross
2. Shane Park
3. Stephen Liddell

JUNIOR CLASS
1. Shane Parke
MASTERS
1. Tom Long
2. Don Mahoney

Running Time: 95 mins

* Available in NTSC DVD Only (Region Free)
* THIS DVD WILL PLAY ON ANY DUAL SYSTEM NTSC / PAL DVD PLAYER AND TV. Or any PC DVD.