Details: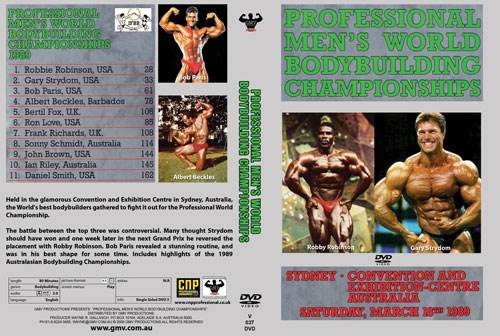 1989 IFBB Men's World Pro Bodybuilding Championships

Held in the glamorous Convention and Exhibition Centre in Sydney, Australia, the World's best bodybuilders gathered to fight it out for the IFBB Professional World Championships. The battle between the top three was controversial. Many thought Strydom should have won and one week later in the next Grand Prix he reversed the placement over Robby Robinson. The judges saw Robby Robinson as clearly the best with his victory being quite clear cut. Bob Paris revealed a stunning routine, and was in his best shape for some time. Albert Beckles was 4th with Bertil Fox in 5th place.

This is a classic contest showcasing some of the very best champions of the 80s, with the brilliant Robby Robinson turning on a virtuoso performance for his many fans. A true collector's item contest!

Then DVD also includes highlights from the 1989 Australasian Bodybuilding Championships. This amateur event presenting the finest amateurs in Australia preceded the Pro show.

The top 11 in the Pro Class were as follows:

Robbie Robinson, USA
Gary Strydom, USA
Bob Paris, USA
Albert Beckles, Barbados
Bertil Fox, UK
Ron Love, USA
Frank Richards, UK
Sonny Schmidt, Australia
John Brown, USA
Ian Riley, Australia
Daniel Smith, USA

Running Time: 80 mins

* Available in NTSC DVD Only (Region Free)
* THIS DVD WILL PLAY ON ANY DUAL SYSTEM NTSC / PAL DVD PLAYER AND TV. Or any PC DVD.