Details: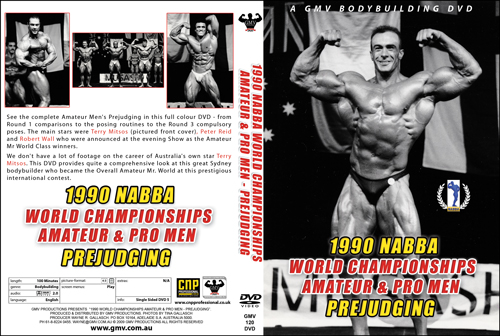 1990 NABBA World Championships: Amateur Men's Prejudging
See the complete Amateur Men's Prejudging in this DVD - from Round 1 comparisons to the posing routines to the Round 3 compulsory poses. The main stars were Terry Mitsos, Peter Reid and Robert Wall who were announced at the evening Show as the Amateur Mr World Class winners.

We don't have a lot of footage on the career of Australia's own star Terry Mitsos. This DVD provides quite a comprehensive look at this great Sydney bodybuilder who became the Overall Amateur Mr. World at this prestigious international contest.

The Professional Mr World was judged as part of the evening Show. Please click here for the 1990 NABBA Worlds: Amateur and Pro Men - The Show, PCB-121DVD.

Please click here for the Women's Complete Event DVD, Prejudging & Show, PCB-122DVD.

1990 NABBA World Championships
Geelong, VIC, Australia
Overall Amateur Winner: Terry Mitsos
Tall Class 1
1 Terry Mitsos - Australia

Medium Class 2
1 Peter Reid - UK

Short Class 3
1 Robert Wall - UK

Professional
1 Charles Clairmonte - UK
2 Samir Bannout - Lebanon
3 Gary Lewer - Australia
4 Shaun Davis - UK

The Women
Overall Physique Winner: Tania Panza - Italy
Figure Overall Winner: Bronwyn O'Brien - Australia
Professional Physique Winner: Sabine Wick - Germany

Running Time: 120 mins

* Available in NTSC DVD Only (Region Free)
* THIS DVD WILL PLAY ON ANY DUAL SYSTEM NTSC / PAL DVD PLAYER AND TV. Or any PC DVD.