Details: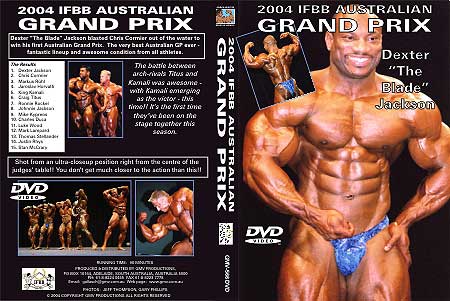 2004 Australian Grand Prix
Dexter "The Blade" Jackson blasted Chris Cormier out of the water to win his first Australian Grand Prix. The very best Australian GP ever - fantastic lineup and awesome condition from all athletes.
The battle between arch-rivals Titus and Kamali was frightening - with Kamali emerging as the victor - this time!! They refought their battle which started at the Arnold classic when Titus won the skirmish. We've never seen a comparison round to equal the one between these two - if it had been a boxing ring, blood would have been spilt!!
The Results:
1. Dexter Jackson
2. Chris Cormier
3. Markus Rühl
4. Jaroslav Horvath
5. King Kamali
6. Craig Titus
7. Ronny Rockel
8. Johnnie Jackson
9. Mike Kypreos
10. Charles Duca
11. Luke Wood
12. Mark Lampard
13. Thomas Stellander
14. Justin Rhys
15. Stan McCrary

Running Time: 90 mins

* Available in NTSC DVD Only (Region Free)
* THIS DVD WILL PLAY ON ANY DUAL SYSTEM NTSC / PAL DVD PLAYER AND TV. Or any PC DVD.