Details: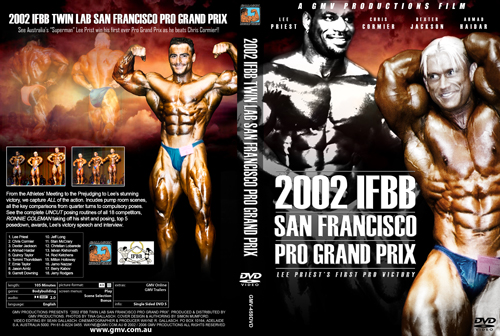 2002 IFBB San Francisco Pro Grand Prix

See Australia's "Superman" Lee Priest win his first ever Pro Grand Prix as he beats Chris Cormier!!
From the Athletes' Meeting to the Prejudging to Lee's stunning victory, we capture ALL of the action. Includes pump room scenes, all the key comparisons from ¼ turns to compulsory poses.
See the complete UNCUT posing routines of all 18 competitors, RONNIE COLEMAN taking off his shirt and posing, top 5 posedown, awards, Lee's victory speech and interview.
Our 2 cameras captured superb closeups!!
THE MOST EXCITING GRAND PRIX WE HAVE EVER COVERED!

RESULTS:
1. Lee Priest


2. Chris Cormier


3. Dexter Jackson


4. Ahmad Haidar

5. Quincy Taylor


6. Tommi Thorvildsen


7. Ernie Taylor


8. Jason Arntz


9. Garrett Downing


10. Jeff Long


11. Stan McCrary


12. Christian Lobarede

12. Istvan Kishorvath

14. Rod Ketchens


15. Milton Holloway


16. Jamo Nazzar


17. Berry Kabov



18. Jerry Rodgers


Running Time: 105 mins


* Available in NTSC DVD Only (Region Free)

* THIS DVD WILL PLAY ON ANY DUAL SYSTEM NTSC / PAL DVD PLAYER AND TV. Or any PC DVD.