Details: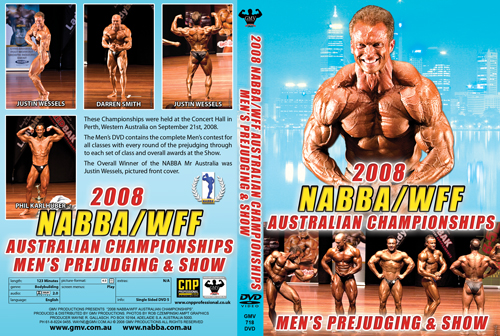 2008 NABBA/WFF AUSTRALIAN CHAMPIONSHIPS - THE MEN
These Championships were held at the Perth Concert Hall, in Perth, Western Australia on September 21st, 2008. See the best physiques in Australia at these National Championships for both NABBA and the WFF. Teams were selected to compete in the NABBA Universe in England and the WFF Worlds in Germany.
This superb Men's DVD contains the complete men's contest with every round of the judging through to each set of class and overall awards at the evening show.
Cover photos by Rob Czempinski, AMPT GRAPHICS.
For the Men's Results see below.
MEN'S CLASSES RESULTS:
NABBA MEN'S JUNIORS
1. MATTHEW McHUGH
2. RAJIV CHUCKOWREE
3. KYLE WILSON
4. MITCHELL VICKERIDGE
NABBA NOVICE MEN
1. CAMPBELL MacCALLUM
2. LUKE MCNALLY
3. DAVID CIECHANOWICZ
DNP: TIM ROBERTS, JON SUMMERS, GRANT RAYNER, BRETT SCOTT, RICHARD NEDERPEL, GARY RUIS, PHILIP DRYSDALE, KANE MAURIOHOOHO
NABBA MASTERS MEN OVER 40
1. DARREN SMITH
2. TONY BATE
3. STEPHEN TAGLIAFERRI
NABBA GRANDMASTERS MEN OVER 50
1. KYM JOHNCOCK
2. PHYLLYP MATTHEWS
3. KEN WARE
4. KINGSLEY PAK
NABBA MENS OPEN CLASS IV
1. ASH MASON
NABBA MENS OPEN CLASS III
1. NICK RANELLI
2. JASON BEDNARZ
3. SCOTT SLAMAN
NABBA MENS OPEN CLASS II
1. JUSTIN WESSELS
2. MARK REED
3. TREVOR LEADBEATTER
4. DARREN MERCHANT
NABBA MENS OPEN CLASS I
1. SCOTT GOBLE
2. ROBERTO MORANDO
3. ALLAN REIDIE
4. ANDY TEMNYK
WFF MR ATHLETIC MASTERS OVER 35
1. DAVID KING
2. PAUL RAUCHWALD
3. KEVIN REDFEARN
4. DAVID JOHN
WFF MR ATHLETIC OPEN CLASS III
1. MARC SUBRAMANIAN
WFF MR ATHLETIC OPEN CLASS II
1. JOHN ARCHBOLD
WFF MR ATHLETIC OPEN CLASS I
1. PHIL KARLHUBER
2. JEREMY PADULA
3. NATHAN HAMPEL
NABBA OVERALL MEN: JUSTIN WESSELS
WFF OVERALL MEN: PHIL KARLHUBER

Running Time: 123 mins

* Available in NTSC DVD Only (Region Free)
* THIS DVD WILL PLAY ON ANY DUAL SYSTEM NTSC / PAL DVD PLAYER AND TV. Or any PC DVD.