Details: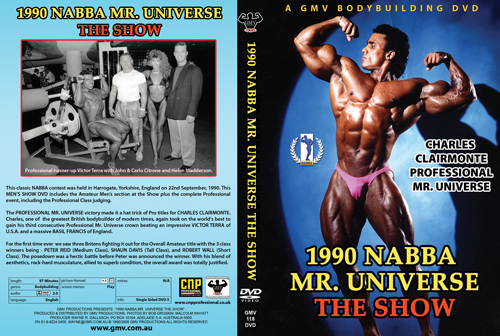 1990 NABBA Amateur & Professional Universe: The Men - The Show

Charles Clairmonte, Victor Terra, Basil Francis. This video from the evening SHOW includes the Amateur Men's section at the Show plus the complete Professional event, including the Professional judging which was part of the show. Held in Harrogate, Yorkshire, England 22nd September, 1990.

THE PROFESSIONALS - A HAT TRICK FOR CHARLIE!! Charles Clairmonte, arguably the greatest British bodybuilder of modern times, again took on the world's best to gain his third consecutive Professional Mr. Universe crown beating an impressive VICTOR TERRA of U.S.A. and a massive BASIL FRANCIS of England. A ripped and defined CLAUDIO MOSTACCI (Italy) placed a close 4th. Charles is aesthetically pleasing to the eye, and yet carries huge amounts of beautifully defined muscle on a slim structure. Once again, he presented himself as the true professional.

Men's Class Three (Short): This class opened the Show, with a stunning lineup of thirteen excellent bodybuilders, each striving for victory The real battle for first place evolved between British rivals ROBERT WALL and TERRY FISHER - Robert's size and shape against the rugged granite-like Terry Eventually the judges decided in favour of Robert's mass and proportions, with a very ripped Eddie Lancia of Italy taking third place.

Men's Class Two (Medium): As soon as this class strode out it was soon clear it would prove the most difficult category for the judges. With twenty-six competitors from around the world, it was a fiercely contested meeting of nations. PETER REID from England and CASEY KUCHARYK of USA soon emerged as the top two. Peter Reid was absolutely awesome from every angle! He has freaky muscle development, including an enormous back deep and beefy pecs, massive arms and wicked aesthetics. On the other hand Kucharyk's lower body was amazing showing a hard vascularity and powerful thighs. When the smoke had cleared Peter Reid had definitely outgunned Casey Kucharyk, with TONY FRANCIS (U.K.) third, and ANDREAS KREBS (Germany) fourth. It was that close, anyone of these four giants would have been a worthy winner.

Men's Class One (Tall): This Class usually presents some amazing physiques, and this year was no exception. There was a battle royal for the top five positions with spirited combat between SHAUN THE DINOSAUR' DAVIS (U.K.), OWEN NEIL(U.K.), ROBERT HARROP (U.S.A.), KLAUS RAGG (Germany), and FAUSTO ASCANI (Italy). With his shaven head and intermittent grunts and scowls, Shaun Davis presents a fearsome enough sight but it's his physique which really chills his rivals! With his wide, wide shoulders, huge deltoids, and ripped thighs, Shaun was the man with the strongest credentials and fully deserved first place.

The Overall Amateur Title: For the first time ever, we saw three Britons fighting it out for the Overall Amateur title with - PETER REID (Medium Class), SHAUN DAVIS (Tall Class), and ROBERT WALL (Short Class). The posedown was a hectic battle before Peter was announced the winner. With his blend of aesthetics and eye-popping musculature, allied to superb condition, the overall award was more than justified.

The Show tape includes the routines of the six finalists, together with the complete posedowns and awards for each Amateur class; the judging, posedown and award for the Overall Amateur title; and the Professionals' judging, posing routines and awards. As a special bonus, we include the speech made by Tom Platz, interviews with Peter Reid and Victor Terra, and some unique footage of Victor working out on the sponsors Panatta Equipment that was on display at the event.

Two cameras were used so that we could incorporate stunning closeups. As usual GMV were the sole videographers of the event.

COMPLETE MEN'S RESULTS:

AMATEUR MR. UNIVERSE
MEN'S CLASS 1 – TALL

1 Shaun Davis UK
2 Robert Harrop USA
3 Owen Neil UK
4 Fausto Ascani Italy
5 Klaus Ragg Germany
6 Rudiger Schmitz Germany
7 Mick Sousa USA
8 Kevin O'Grady Australia
NP:
Robert Peacock
Neels Friar
John Hansen
Juan Jose Albalat
Walter Eyckens
Gavin Janse Van Rensberg
Jan Van Roy
Brian Smith

MEN'S CLASS 2 – MEDIUM

1 Peter Reid UK
2 Casey Kucharyk USA
3 Tony Francis UK
4 Andreas Krebs Germany
5 Stefano Cirraldi Italy
6 Robert Can Dussen Holland
7 Werner Schneider Germany
8 Dennis Francis UK
NP:
Steve Brooks
Sherif Derias
Richard Martina
Warren Treasure
Horst Welz
Walter Capitelli
Joey Bastion
Kevin McNamara
Claude Martyn
Gorge Camilleri
Roy Martin
Francis Adams
Stojic Zarko
Sam Siamoa
Renato Somenzi
Eduardo Dela Asuncion
Lombardo Guiseppe
Denis Chuvas

MEN'S CLASS 3 – SHORT

1 Robert Wall UK
2 Tery fisher UK
3 Eddie Lancia Italy
4 John Wiggins UK
5 Bruce Leong Australia
6 Paul Thomas UK
7 Bill Jones UK
8 Marco Dengel Germany
NP:
Nick Van Beek
Rodolphe Fernandez
Mayo Sanches
Dieter Busch

OVERALL AMATEUR MR. UNIVERSE: PETER REID - UK

PROFESSIONAL MR. UNIVERSE

1 Charles Clairmonte UK
2 Victor Terra USA
3 Basil Francis UK
4 Claudio Mostacci Italy
5 Heinrich Horling Germany

Running Time: 120 mins

* Available in NTSC DVD Only (Region Free)
* THIS DVD WILL PLAY ON ANY DUAL SYSTEM NTSC / PAL DVD PLAYER AND TV. Or any PC DVD.