Details: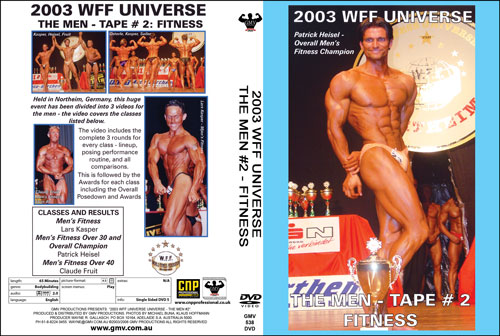 2003 WFF Universe: Men's DVD # 2

Held in Northeim, Germany, this huge event has been divided into 3 DVDs for the men. This DVD covers the classes listed below in the RESULTS Section.
The DVD includes the complete 3 rounds for every class - lineup, complete posing performance routine from every single competitor, and all comparisons.

This is followed by the Awards for each class including the Overall Posedown and Awards.

CLASS WINNERS AND RESULTS:

Men's Fitness
Lars Kasper
Men's Fitness Over 30 and Overall Champion
Patrick Heisel
Men's Fitness Over 40
Claude Fruit

******************************

Men's Fitness
1 Lars Kasper
2 Bernd Österle
3 Frank Sailer
4 Davide Bramati
5 Alpaslan Kulak
6 Michael Gruber

Men's Fitness Over 30
1 Patrick Heisel (Overall winner)
2 Ibrahim Erbay
3 Simon Groß
4 Franco Fusari
5 Raffaele Motta
6 Wolfgang Mühltaler

Men's Fitness Over 40
1 Claude Fruit
2 Antonello Secchi
3 Roland Tammier
4 Jürgen Weber
5 Anatoli Vechtchikov

Running Time: 65 mins

* Available in NTSC DVD Only (Region Free)
* THIS DVD WILL PLAY ON ANY DUAL SYSTEM NTSC / PAL DVD PLAYER AND TV. Or any PC DVD.