Details: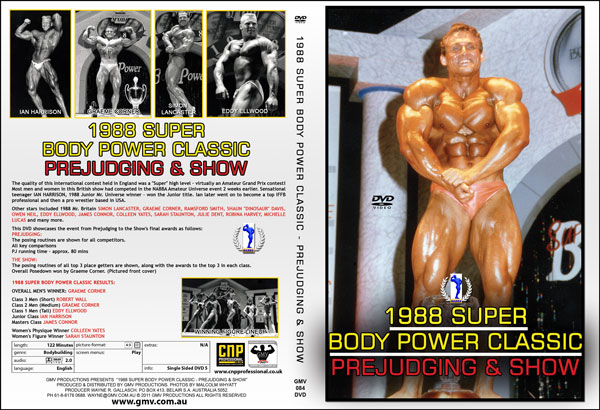 1988 SUPER BODY POWER CLASSIC PREJUDGING & SHOW

The calibre of this International contest held in England was a "Super" high level - an Amateur Grand Prix contest! Most men and women in this British show had competed in the NABBA Amateur Universe event 2 weeks earlier. This was like a supercharged re-run along with some new competitors - now on DVD, showcasing many of the best amateurs in the world from the late 80s. The event was generously sponsored and promoted by Healthilife Sport and run under NABBA rules.

Sensational teenager IAN HARRISON, Junior Mr. Universe winner won the Junior title. Ian later went on to become a top IFFB professional and then a pro wrestler based in USA where he lives today. See in this new DVD how his huge but mature physique looked as a Junior back in 1988.

Other stars included 1988 Mr. Britain SIMON LANCASTER, RAMSFORD SMITH, SHAUN "DINOSAUR" DAVIS, OWEN NEIL, EDDY ELLWOOD, GRAEME CORNER, JAMES CONNOR, COLLEEN YATES, SARAH STAUNTON, JULIE DENT, ROBINA HARVEY, MICHELLE LUCAS, NABBA Ms Australia KIM KNOTT and many more.

The surprise but very worthy OVERALL WINNER was a ripped and symmetrical GRAEME CORNER. He had too much class, style and maturity on the day. After a brilliant and hard fought posedown, he managed to edge out the tall class winner EDDY ELLWOOD who later went on to win a record 5 Universe titles in a row. The fantastic short class winner also in the mix for the overall crown was ROBERT WALL. Sensational JAMES CONNOR took out the Masters Section with a physique that would have done well in the Open Class.

Demonstrating the massive depth of UK bodybuilding, even with top bodybuilders from around the world competing, every single class for Men & Women was won by a UK competitor. This DVD brings you the complete event from Prejudging to the Show's final awards as follows:

PREJUDGING:
The posing routines are shown for all competitors.
All key comparisons
PJ running time - approx 80 mins

THE SHOW:
The posing routines of all top 3 placegetters only are shown, along with the awards to the top 3 in each class.
Overall Posedown won by Graeme Corner. See front cover photo and colour photo above.
This was in order to fit the SHOW into a time limit of 40 mins for a maximum event running time on video of 120 mins.

This DVD is a straight transfer of the video master tape to DVD with no added features.

1988 SUPER BODY POWER CLASSIC RESULTS:

OVERALL MEN'S WINNER: GRAEME CORNER

Class 3 Men (Short) ROBERT WALL
Class 2 Men (Medium) GRAEME CORNER
Class 1 Men (Tall) EDDY ELLWOOD
Junior Class IAN HARRISON
Masters Class JAMES CONNOR
Women's Physique Winner COLLEEN YATES
Women's Figure Winner SARAH STAUNTON

Total running time: 122 minutes.

Official photographer: Malcolm Whyatt.

RESULTS:

Held at the Harrogate Conference Centre, Yorkshire on 24th September, 1988.

JUNIOR CLASS
1 Ian Harrison (See Ian Harrison pictured right and Junior Class winning group bottom of page)
2 Leonard St. Cyr
3 Graham McLean
4 Darren Barry
5 Mike Cadogen

MASTERS CLASS
1 James Connor
2 John Madderson
3 Brian House
4 Sammy Nelson
5 Bill Hanratty
6 Andrew Gault

MEN'S CLASS 3
1 Robert Wall
2 Terry Phillips
3 Ramsford Smith BEST PRESENTATION AWARD
Adrian Stones
Kevin Duggan
Gavin Graves

MEN'S CLASS 2
1 Graeme Corner (OVERALL WINNER & BEST PRESENTATION AWARD)
2 Tony Francis
3 Simon Lancaster (See photo right)
4 Stuart Edmond

MEN'S CLASS 1
1 Eddy Ellwood BEST PRESENTATION AWARD
2 Owen Neil
3 Shaun Davis
4 Ben Hartman
5 Eian Belle

MISS PHYSIQUE
1 Colleen Yates
2 Robina Harvey
3 Julie Dent
4 Pam Davies
5 Michelle Lucas
6 Kim Knott

MISS FIGURE
1 Sarah Staunton (See Figure Class winning group below with Sarah in the centre)
2 Mary Scott
3 Karen Titherington
4 Yeta Hall
5 Jeanette Harper
6 Nicola Davies
Andra Day
Elaine Santos Walklate
Pauline Kerr
Tracey Miller

Running Time: 125 mins

* Available in NTSC DVD Only (Region Free)
* THIS DVD WILL PLAY ON ANY DUAL SYSTEM NTSC / PAL DVD PLAYER AND TV. Or any PC DVD.