Details: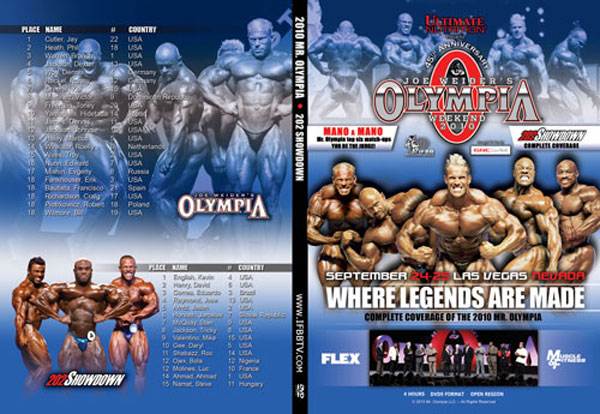 2010 Mr. Olympia
See the past Mr. Olympia winners when they returning on-stage for an emotional reunion with Joe Weider.
You will also see Jay and Phil slug it out till the final announcement!
The 2010 Mr. Olympia contest was staged on September 24th and September 25th, at the Orleans Arena is Las Vegas, and the book was wide open as to the winner. The field was loaded with stars such that the 2010 Olympia was unquestionably the most competitive lineup in the 45-year history of the event. With defending 3-time champion Jay Cutler, Arnold Classic stars in Kai Greene, Phil Heath, Branch Warren, Dexter Jackson, Victor Martinez etc, it was an exciting contest.
The 2010 Mr. Olympia DVD is a full four hours of magnificent muscle, including the 202 Showdown, complete prejudging footage of every athlete, the "Mano a Mano" feature where you can compare the top six at home, man-to-man, pose-by-pose, and of course all the excitement of the Mr. Olympia Past Winner's Reunion with Joe Weider.
The finals (including the emotional tribute from the audience to retiring Dennis James), the posedown round, and awards ceremonies are all included, plus a video montage of the history of the Olympia during the closing credits. This is all fantastic stuff making 2010 a memorable year!! See FULL MEN'S RESULTS below.
Order today and receive this action-packed DVD with four-hours of incredible muscle mayhem! All the onstage action, special footage unseen on the webcast, and more will make this an outstanding DVD for your home full-screen viewing! Includes some of the Men's Model Search in the opening Expo scenes.
PLUS
SPECIAL MANO A MANO: TOP SIX MATCHUPS SIDE BY SIDE ON SCREEN.
IMPORTANT NEWS RE THE 2010 DVD:
Fans of the 202 Showdown will see the following – every pose by every man at the prejudging including all call-outs for comparisons judged on the Expo stage. All competitors are introduced at the Saturday night evening Finals. The top 6 are announced and then they go through their quarter turns and compulsories before posing down to the delight of the crowd. This 202 segment of approximately 50 mins concludes with the awards to the top 6 competitors.
2010 IFBB Olympia - Men's Results:
Mr. Olympia
1 Jay Cutler - USA
2 Phil Heath - USA
3 Branch Warren - USA
4 Dexter Jackson - USA
5 Dennis Wolf - Germany
6 Ronny Rockel - Germany
7 Kai Greene - USA
8 Victor Martinez - Dominican Rep.
9 Toney Freeman - USA
10 Hidetada Yamagishi - Japan
11 Dennis James - Germany
11 Johnnie Jackson - USA
13 Marcus Haley - USA
14 Roelly Winklaar - Holland
15 Troy Alves - USA
16 Edward Nunn - USA
17 Evgeny Mishin - Russia
18 Bill Wilmore - USA
18 Craig Richardson - USA
18 Erik Fankhouser - USA
18 Francisco Bautista - Spain
18 Robert Piotrkowicz - Poland
202 Showdown
1 Kevin English - USA
2 David Henry - USA
3 Eduardo Correa Da Silva - Brazil
4 Jose Raymond - USA
5 Jason Arntz - USA
6 Jaroslav Horvath - Slovakia
7 Stan McQuay - USA
8 Ricky Tricky Jackson - USA
9 Mike Valentino - USA
10 Daryl Gee - USA
11 Roc Shabazz - USA
12 Bola Ojex - Nigeria
12 Luc Molines - France
14 Ahmad Ahmad - Sweden
15 Steve Namat - Hungary



Running Time: 240 mins

* Available in NTSC DVD Only (Region Free)
* THIS DVD WILL PLAY ON ANY DUAL SYSTEM NTSC / PAL DVD PLAYER AND TV. Or any PC DVD.