Details: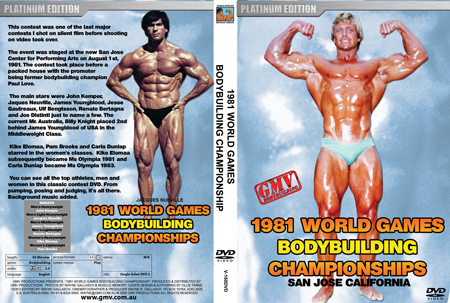 1981 World Games Bodybuilding Championships

This contest was one of the last major contests we shot on silent film before shooting on video took over.

The event was staged at the new San Jose Center for Performing Arts on August 1st, 1981. The contest took place before a packed house with the promoter being former bodybuilding champion Paul Love.

The main stars were John Kemper, Jaques Neuville, James Youngblood, Jesse Gautreaux, Ulf Bengtsson, Renato Bertagna and Joe Distinti just to name a few. The current Mr. Australia, Billy Knight placed 2nd behind James Youngblood of USA in the Middleweight Class.

Kike Elomaa, Pam Brooks and Carla Dunlap starred in the women's classes. Kike Elomaa subsequently became Ms Olympia 1981 and Carla Dunlap became Ms Olympia 1983.

You can see all the top athletes, men and women in this classic contest DVD. From pumping, posing and judging, it's all there. Background music added.

Complete Contest Results:

1981 IFBB World Games Bodybuilding Championships.

Men's-HeavyWeight
1 John Kemper
2 Wayne Robbins
3 Achmed Ibrahim
4 Manfred Grossler
5 Rolando Pintoy

Men's-Light-HeavyWeight
1 Jacques Neuville
2 Jesse Gautreaux
3 Keijo Reiman
4 Ulf Bengtsson
5 Cesar Lopez

Men's-MiddleWeight
1 James Youngblood
2 Billy Knight
3 Erwin Note
4 Ray Beaulieu
5 Lucien Gunther

Men's-LightWeight
1 Renato Bertagna
2 Esmat Sadek
3 Joseph Disinti
4 Harry Derglin
5 Ralph Lopez

Women's-HeavyWeight
1 Kike Elomaa
2 Gail Schroeter
3 Deborah Diana
4 Carla Dunlap
5 Vera Cools
6 Carole Bennett
7 Shelley Gruwell

Women's-LightWeight
1 Pam Brooks
2 Jose Baumgartner
3 Christine Reed
4 Debbie Trenholm
5 Jacqueline Roos
6 Josian Jamar

Running Time: 65 mins

* Available in NTSC DVD Only (Region Free)
* THIS DVD WILL PLAY ON ANY DUAL SYSTEM NTSC / PAL DVD PLAYER AND TV. Or any PC DVD.