Details: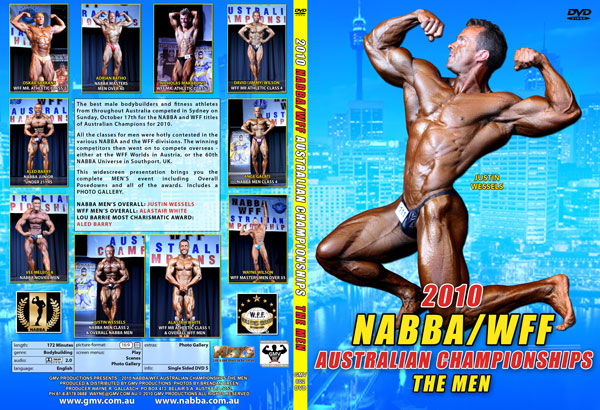 2010 NABBA/WFF Australian Championships - The Men
The best male and female bodybuilders and fitness athletes from throughout Australia competed at the Nationals in Sydney on Sunday, October 17th for the NABBA and WFF titles of Australian Champions for 2010.
All the classes for men were hotly contested in the various NABBA and the WFF divisions. The winning competitors then went on to compete overseas - either at the WFF Worlds in Austria, or the 60th NABBA Universe in Southport, UK.
This massive widescreen 16:9 presentation brings you the COMPLETE MEN'S EVENT including all the comparisons and posing through to the Overall Posedowns and all of the awards.
NABBA MEN'S OVERALL WINNER: JUSTIN WESSELS
WFF MEN'S OVERALL WINNER: ALASTAIR WHITE
LOU BARRIE MOST CHARISMATIC AWARD: ALED BARRY
Photos by Brendan Breen. Widescreen 16:9
EXTRAS:
Photo Gallery
2010 NABBA/WFF Australian Bodybuilding Championships - Men's Results Sydney, 17th October, 2010
WFF Teenage
1. Joseph Pang
2. Michael Dorn
NABBA Junior Under 21yrs
1. Aled Barry
2. Aaron Kingsley
3. Hal Daniels

WFF Masters Men Over 35
1. Wayne Wilson
2. Matthew Wiederstein
3. Peter Varley
DNP:
John Reidy
Clive Hawkins
Tommy Settimio
WFF Classic Men Over 60
1. Stephen Osborne
NABBA Novice Men
1. Vee Meleisea
2. Michael Brown
3. Matt Day
DNP:
Bradleigh Keep
Peter Skyllas
WFF Mr Athletic Class 4
1. David (Jimmy) Wilson
2. Paul McGregor
WFF Mr Athletic Class 3
1. Nicholas Makaronis
2. Steve Hamilton
3. Ian Pooke
4. Jim Kopsaris
NABBA Masters Men Over 40
1. Adrian Batho
2. Darren Smith
3. Robert Reed
DNP:
Arthur Fracalossi
Chris Hosking
Andi Condon

NABBA GrandMasters Men Over 50
1. Iain Reid
2. Steve Quinn
NABBA Men Class 4
1. Ange Galati
2. Paul Jayilian
3. Ash Mason
4. Andy Scott
NABBA Men Class 3
1. Robert (Max) Walker
2. Denny Singleton
NABBA Men Class 2
1. Justin Wessels
2. Abraham Elzaibak
3. Richard Parnham
DNP:
Andrew Gilley
Steve Nicholas
NABBA Men Class 1
1. Kristian Porthill
2. Hayden Thin
3. Rick Brennan
4. Donny Henderson Smith

WFF Mr Athletic Class 2
1. Oskar Sarkans
2. Wesley Newell
3. Ian Percival
DNP:
Leigh Carmichael
Travis Young
Phillip Ward
Todd Shanahan
WFF Mr Athletic Class 1
1. Alastair White
2. Sam Mitchell
3. Brent Mottram
DNP:
Takis Venios
Jeremy O'Brien



Running Time: 175 mins

* Available in NTSC DVD Only (Region Free)
* THIS DVD WILL PLAY ON ANY DUAL SYSTEM NTSC / PAL DVD PLAYER AND TV. Or any PC DVD.