Details: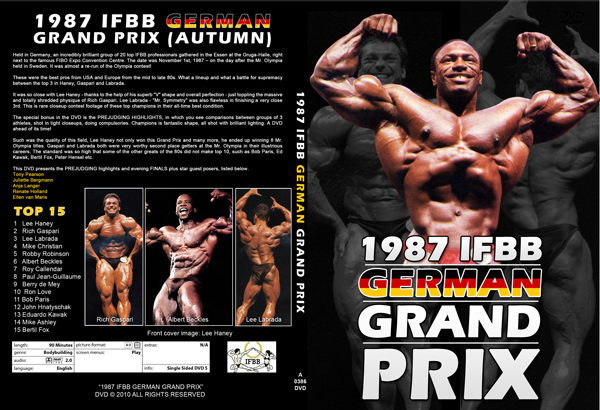 1987 IFBB German Grand Prix (Autumn)

Held in Germany, an incredibly brilliant group of 20 top IFBB professionals gathered in the Essen at the Gruga-Halle, right next to the famous FIBO Expo Convention Centre. The date was November 1st, 1987 – on the day after the Mr. Olympia held in Sweden. It was almost a re-run of the Olympia contest!

These were the best pros from USA and Europe from the mid to late 80s. What a lineup and what a battle for supremacy between the top 3 in Haney, Gaspari and Labrada.

It was so close with Lee Haney - thanks to the help of his superb "V" shape and overall perfection - just toppling the massive and totally shredded physique of Rich Gaspari. Lee Labrada - "Mr. Symmetry" was also flawless in finishing a very close 3rd. This is rare closeup contest footage of these top champions in their all-time best condition.

The special bonus feature in the DVD is the PREJUDGING HIGHLIGHTS, in which you see comparisons between groups of 3 athletes, shot in tight closeups, doing compulsories. Great champions is fantastic shape, all shot with brilliant lighting. This is one of the best quality grand prix recordings of the eighties and as such is a DVD ahead of its time!

For the many Haney fans, it is one of the few DVDs showing LEE HANEY winning a Grand Prix at his peak. Not to be missed!

Such was the quality of this field, Lee Haney not only won this Grand Prix and many more, he ended up winning 8 Mr. Olympia titles. Gaspari and Labrada both were very worthy second place getters at the Mr. Olympia in their illustrious careers. The standard was so high that some of the other greats of the 80s did not make top 10, such as Bob Paris, Ed Kawak, Bertil Fox, Peter Hensel etc.

This GP DVD presents the PREJUDGING highlights and evening FINALS,

plus

5 GUEST POSERS:

Tony Pearson
Juliette Bergmann
Anja Langer
Renate Holland
Ellen van Maris

COMPLETE RESULTS:

1987 IFBB German Grand Prix (Autumn)

1 Lee Haney
2 Rich Gaspari
3 Lee Labrada
4 Mike Christian
5 Robby Robinson
6 Albert Beckles
7 Roy Callendar
8 Paul Jean-Guillaume
9 Berry de Mey
10 Ron Love
11 Bob Paris
12 John Hnatyschak
13 Eduardo Kawak
14 Mike Ashley
15 Bertil Fox
16 Peter Hensel
17 Josef Grolmus
18 Hermann Hoffend
18 Hubert Metz
18 Steve Brisbois

Running Time: 95 mins

* Available in NTSC DVD Only (Region Free)
* THIS DVD WILL PLAY ON ANY DUAL SYSTEM NTSC / PAL DVD PLAYER AND TV. Or any PC DVD.