Details: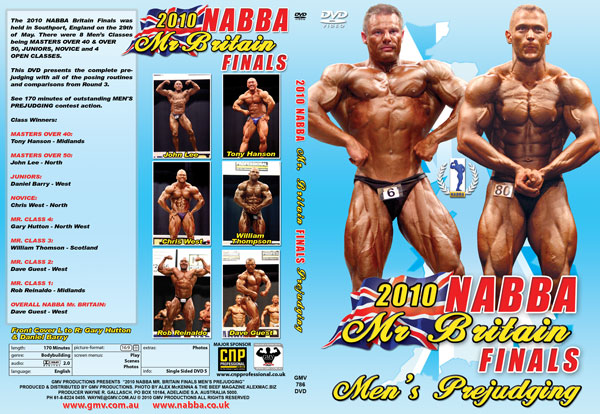 2010 NABBA Britain Finals: The Men's Prejudging
The 2010 NABBA Britain Finals was held in Southport, England on the 29th of May. There were 8 Men's Classes as follows:

MASTERS OVER 40 & OVER 50, JUNIORS, NOVICE and 4 OPEN MEN'S CLASSES.
This DVD presents the complete prejudging with all of the posing routines and comparisons from Round 3. See 170 minutes of outstanding MEN'S PREJUDGING contest action.
2010 NABBA BRITAIN FINALS - Men's Class Winners:
MASTERS OVER 40: Tony Hanson - Midlands
MASTERS OVER 50: John Lee - North
JUNIORS: Daniel Barry - West
NOVICE: Chris West - North
MR. CLASS 4: Gary Hutton - North West
MR. CLASS 3: William Thomson - Scotland
MR. CLASS 2: Dave Guest - West
MR. CLASS 1: Rob Reinaldo - Midlands
OVERALL NABBA Mr. BRITAIN: Dave Guest - West
EXTRAS:

Photo Gallery
Photos courtesy Alex and THE BEEF magazine.
Major Sponsor: CNP Professional
and supported by USN and Creative Fitness Marketing



Running Time: 170 mins

* Available in NTSC DVD Only (Region Free)
* THIS DVD WILL PLAY ON ANY DUAL SYSTEM NTSC / PAL DVD PLAYER AND TV. Or any PC DVD.