Details: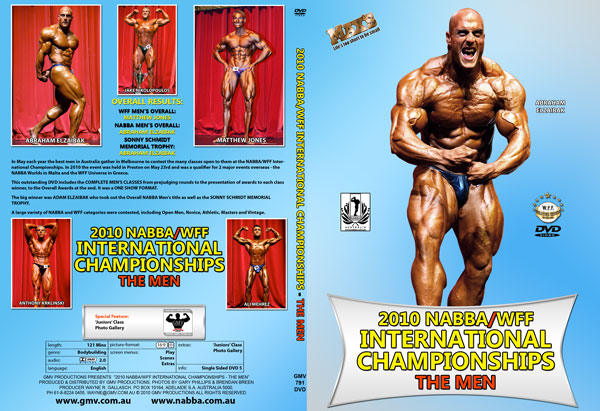 2010 NABBA/WFF International Championships: The Men
In May each year the best men and women in Australia gather in Melbourne, Victoria to contest the many classes open to them at the NABBA/WFF International Championships. This year the event was held in Preston on May 23rd, and was a qualifier for the 2 major events overseas - the NABBA Worlds in Malta and the WFF Universe in Greece.

This men's DVD brings you the complete men's contest from start to finish, along with Extra Scenes.
THE MEN'S DVD showcases all of the men's classes from the NABBA and WFF categories. From the first rounds through to the posing routines to the posedowns and final awards and Overall title. This DVD has it all.
Special Features:

'Juniors' Class - 2 mins
Men's Photo Gallery
Format: HD Wide Screen 16:9
OVERALL RESULTS:
WFF WOMEN'S OVERALL: Gabriela Cioban
WFF MEN'S OVERALL: Matthew Jones
NABBA WOMEN'S OVERALL: Neralee Montague
NABBA MEN'S OVERALL: Abraham Elzaibak
SONNY SCHMIDT MEMORIAL TROPHY: Abraham Elzaibak
Contest Results:

MEN'S CLASSES
NABBA Novice Men
1st Anthony Krklinski
2nd Jason Kenny
3rd Peter Djurkovic
4th Charlie Mokbel
5th Stewart Cheffirs
WFF Mr Athletic Class 1
1st Wayne Wilson
WFF Mr Athletic Class 2
1st Matthew Jones
2nd Joel Kirkilis
3rd Walter Trinco
4th John Albergo
5th Paul Creasey
6th Shannon Hare
WFF Mr Athletic Class 3
1st Michael Soldini
WFF Mr Athletic Class 4
1st Ali Mehrez
2nd Robert Borgonha
NABBA Men Class1
1st Marc Sboto
2nd Luke Faba
NABBA Men Class 2
1st Abraham Elzaibak
2nd Adam Fennell
3rd Luke Sgarbossa
4th Michael Faba
NABBA Men Class 3
1st Jake Nikolopoulos
2nd Matt McLean
NABBA Men Class 4
1st Milad Dagher
2nd Fred Liberatore
WFF Masters Men Over 35
1st Tom Wojcik
2nd Jason Walters
3rd Paul Nicol
NABBA Masters Men Over 40
1st Matt Nicholson
2nd Blair Loveday
WFF Vintage Men Over 60
1st Dennis Dye
Worlds Oldest Bodybuilder 80+ yrs
Ray Moon

WFF MEN OVERALL: Matthew Jones

NABBA MEN OVERALL: Abraham Elzaibak
SONNY SCHMIDT MEMORIAL TROPHY: Abraham Elzaibak



Running Time: 121 mins

* Available in NTSC DVD Only (Region Free)
* THIS DVD WILL PLAY ON ANY DUAL SYSTEM NTSC / PAL DVD PLAYER AND TV. Or any PC DVD.