Details: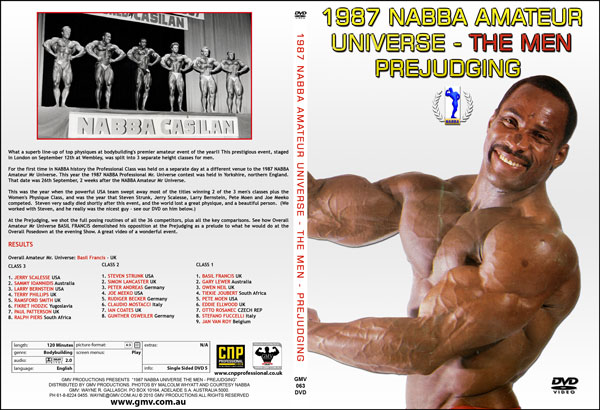 1987 NABBA Amateur Universe: The Men - Prejudging

What a superb line-up of top physiques at bodybuilding's premier amateur event of the year!! This prestigious event, staged in London on September 12th at Wembley, was split into 3 separate height classes for men.

For the first time in NABBA history the Professional Class was held on a separate day at a different venue to the 1987 NABBA Amateur Mr Universe. This year the 1987 NABBA Professional Mr. Universe contest was held in Yorkshire, northern England. That date was 26th September, 2 weeks after the NABBA Amateur Mr Universe. For the 1987 NABBA Pro Mr Universe contest, GAMM-068DVD.

This was the year when the powerful USA team swept away most of the titles winning 2 of the 3 men's classes plus the Women's Physique Class, and was the year that Steven Strunk, Jerry Scalesse, Larry Bernstein, Pete Moen and Joe Meeko competed. Steven very sadly died shortly after this event, and the world lost a great physique, and a beautiful person.

At the Prejudging, we shot the full posing routines of all the 36 competitors, plus all the key comparisons. See how Overall Amateur Mr Universe BASIL FRANCIS demolished his opposition at the Prejudging as a prelude to what he would do at the Overall Posedown at the evening Show. A great video of a wonderful event. Every single competitor is listed in the RESULTS below.

For all of the details on the 1987 NABBA Amateur Mr Universe: Men - The Show, GAMM-064DVD.

For all of the details on the 1987 NABBA Miss Universe: The Women - Prejudging & Show, GAMM-065DVD.

1987 NABBA Amateur Mr. Universe - Complete Results:

Overall Amateur Mr. Universe: Basil Francis - UK

CLASS 3

1. JERRY SCALESSE USA
2. SAMMY IOANNIDIS Australia
3. LARRY BERNSTEIN USA
4. TERRY PHILLIPS UK
5. RAMSFORD SMITH UK
6. FIKRET HODZIC Yugoslavia
7. PAUL PATTERSON UK
8. RALPH PIERS South Africa
NP
MANUEL MIRANDA Spain
DAVID CLARKE UK
JOHN DANCKAERT Holland

CLASS 2

1. STEVEN STRUNK USA
2. SIMON LANCASTER UK
3. PETER ANDREAS Germany
4. JOE MEEKO USA
5. RUDIGER BECKER Germany
6. CLAUDIO MOSTACCI Italy
7. IAN COATES UK
8. GUNTHER OSWEILER Germany
NP
MUSRET CUSTOVIC Yugoslavia
JESUS MORENO Spain
NORMAN COGHLAN Australia
KEVIN McNAMARA South Africa
DANIEL VRANCX Belgium
MARIO OJEDA Mexico
EUGENE BEREZINSKI Australia
ERNST GEMEINHARDT Austria

CLASS 1

1. BASIL FRANCIS UK
2. GARY LEWER Australia
3. OWEN NEIL UK
4. TIEKIE JOUBERT South Africa
5. PETE MOEN USA
6. EDDIE ELLWOOD UK
7. OTTO ROSANEC Czech Rep.
8. STEFANO FUCCELLI Italy
9. JAN VAN ROY Belgium

Running Time: 120 mins

* Available in NTSC DVD Only (Region Free)
* THIS DVD WILL PLAY ON ANY DUAL SYSTEM NTSC / PAL DVD PLAYER AND TV. Or any PC DVD.