Details: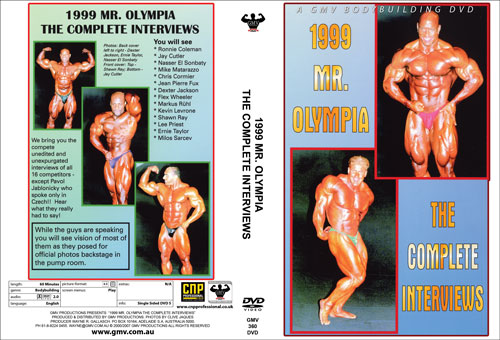 1999 Mr. Olympia - the Complete Interviews.
(With posing highlights of most of the guys)
We bring you the complete unedited and unexpurgated interviews of all 16 competitors except Pavel Jablonicky who spoke only in Czech. During each interview you will see close-up posing clips of that competitor which Wayne shot back stage in the photo booth and pump up area.

Some very controversial comments were made at times!
Of special note is the Chris Cormier interview and posing. We feel that this is possible the best and sharpest we have ever seen Chris look. He was awesome! Nasser also said some controversial and funny things. This is a rare gem of a DVD not to be missed.
This is much more than simply interviews - you will see candid vision of most of the guys as they posed for official still photos backstage.
Now you will hear what they really had to say! Only the short edited comments made the Finals DVD.
You will see and hear the following stars in this order:
Ronnie Coleman
Jay Cutler
Nasser El Sonbaty
Mike Matarazzo
Chris Cormier
Jean Pierre Fux
Dexter Jackson
Flex Wheeler
Markus Rühl
Kevin Levrone
Shawn Ray
Lee Priest
Ernie Taylor
Milos Sarcev
Paul Dillett
1999 Mr. Olympia Results
October 23, 1999 at Las Vegas, Nevada.

1 Ronnie Coleman USA (Click here for Ronnie's On the Road training DVD, PCB-620DVD)
2 Flex Wheeler USA
3 Chris Cormier USA
4 Kevin Levrone USA
5 Shawn Ray USA
6 Nasser El Sonbaty Yugoslavia
7 Paul Dillett Canada
8 Lee Priest Australia
9 Dexter Jackson USA
10 Milos Sarcev Yugoslavia
11 Mike Matarazo USA
12 Ernie Taylor England
13 Pavol Jablonicky Czech Rep
14 Jay Cutler USA
15 Jean Pierre Fux Switzerland
Disq-12 Markus Ruhl Germany
Withdrew: Porter Cottrell USA
This Mr. Olympia was the first to be held at the Mandalay Bay Hotel and Resort in Las Vegas. It was one of the best organized and attended Olympias in history. The venue was completely sold out, with hundreds trying to get tickets at the last minute. When Ronnie was proclaimed Mr. Olympia for the second time, Flex Wheeler turned around on stage, and took off his medals, and then put his hand up proclaiming that he was really #1.
Click here for the 1999 Mr Olympia Complete Pump Room DVD, PCB-373DVD. It will soon be available on DVD.

Click here for the 1999 Mr Olympia Behind the Scenes and Pump Room DVD which is PCB-358DVD.
Click here for the 1999 Mr Olympia Historic DVD which is PCB-0978DVD.

Running Time: 65 mins

* Available in NTSC DVD Only (Region Free)
* THIS DVD WILL PLAY ON ANY DUAL SYSTEM NTSC / PAL DVD PLAYER AND TV. Or any PC DVD.