Details: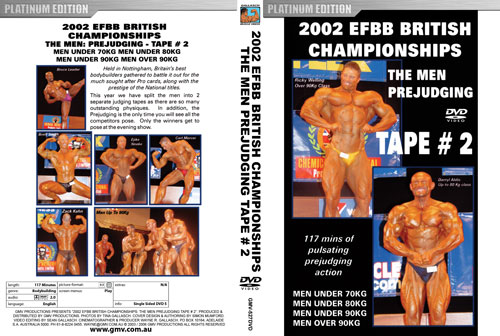 2002 EFBB British Championships: Men's - Prejudging # 2
MEN UNDER 70KG.
MEN UNDER 80KG.
MEN UNDER 90KG.
MEN OVER 90KG.
Held in Nottingham in the magnificent Royal Concert Hall, Britain's best bodybuilders gathered to battle it out for the much sought after Pro cards on offer, along with the prestige of the National titles.

This year we have split the men into 2 separate prejudging tapes as there were so many outstanding physiques, nothing deserved to be omitted. In addition, the Prejudging is the only time you will see all the competitor's posing. Only the winners get to pose again at the evening show. This DVD contains the classes listed above.
Some of the stars included Ricky Welling, overall winner, who is a well respected present day pro, Ejike Nneke, another IFBB pro, Bruce Leader, Zack Kahn and many more.
TOP 6 MEN IN EACH CLASS AS SEEN IN THIS PREJUDGING DVD:
Men under 70 Kg
1. Rob Wild
2. Peter Roche
3. Bruce Leader
4. Wayne Robinson
5. Brandon Marjoram
6. Graham Benwell
Men under 80 Kg
1. Paul Thomas
2. Darryl Aldis
3. Jason Wicker
4. John Paul Wilkinson
5. Dave Thackray
6. James Salmond
Men under 90 Kg
1. Paul Sutton
2. Graham Bennett
3. Mark Etherden
4. Lee Spencer
5. Andrew Palmer
6. Gilbert Sneddon
Men over 90 Kg
1. Ricky Welling
2. Harold Marillier
3. Zack Khan
4. Hunni Glanville
5. Ejike Nneke
6. Andrew Glynn
OVERALL WINNER: RICKY WELLING
COMPLETE MEN'S RESULTS:
JUNIORS
1 Geoff Baston
2 Wayne Robb
3 Jonathan Hughes
4 Steven Crew
1ST TIMERS
1 Russ Parker
Also competed
Zak Pallikaros
Troy Brown
Phil Vaines
Joe Mack
Steve Crabbe
Alan Mason
Jason Burke
Shaun Watson
Andy Norman
Wayne Gibson
Darren Cook
SENIOR MEN
1 Brian Connolly
2 Graham Park
3 Baz Bardsley
4 Malcolm Beck
5 Nigel Cox
6 Cavan Derby
NP
Robert Young
Malvyn Evans
Phil Louis
Steve Horsewell
David Balbert
INTERMEDIATE UNDER 80 KG
1 Mitchell Gosling
2 James Room
3 Glen Casey
4 Huw Davies
5 Mick Freeman
6 Colin Hill
7 Ian Larnder
8 Joel Wright
INTERMEDIATE OVER 80 KG
1 David Baker
2 Darren Kirk
3 Eddie Gray
4 Mike Donnelly
5 Simon Holmes
6 Darren Ball
NP
Alex Mestanas
Hardy Palmer
Ricky Greene
James Scott
Martin Stevenson
Wayne Moizer
MEN UP TO 70 KG
1 Rob Wild
2 Peter Roche
3 Bruce Leader
4 Wayne Robinson
5 Brandon Marjoram
6 Graham Benwell
NP
Neil Smithers
Alexander Stewart
Karim Samadpour
Brett Smith
MEN UP TO 80 KG
1 Paul Thomas
2 Darryl Aldis
3 Jason Whicker
4 John Paul Wilkinson
5 Dave Thackray
6 James Salmond
NP
Mark Hewitt
Lee Callaghan
Mark Turvey
Tim Taylor
Edward Selsby
Carl Mercer
Paul Booth
Mark Grier
Michael Bukowski
Paul Lock
MEN UP TO 90 KG
1 Paul Sutton
2 Graham Bennett
3 Mark Etherden
4 Lee Spencer
5 Andrew Palmer
6 Gilbert Sneddon
NP
Dave Kingham
Joe Walker
Danny Lister
MEN OVER 90 KG
1 Ricky Welling
2 Harold Marillier
3 Zack Khan
4 Hunni Glanville
5 Ejike Nneke
6 Andrew Glynn
NP
Barry Chamberlain
Marcus Brathwaite
Patrick Warner
Tony Stevenson
Serge Licis
Derek Morton
Adam Ashley
Damar Martin
OVERALL WINNER: RICKY WELLING

Running Time: 117 mins

* Available in NTSC DVD Only (Region Free)
* THIS DVD WILL PLAY ON ANY DUAL SYSTEM NTSC / PAL DVD PLAYER AND TV. Or any PC DVD.