Details: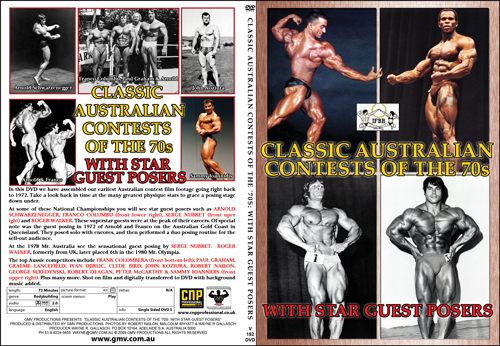 Classic Australian Contests of the '70s: With star guest posers.
In this DVD we have assembled our earliest Australian contest film footage going right back to 1972. Take a look back in time at the many greatest physique stars to grace a posing stage down under.
At some of these National Championships you will see star guest posers such as ARNOLD SCHWARZENEGGER, FRANCO COLUMBU, SERGE NUBRET and ROGER WALKER. These superstar guests were at the peak of their careers. Of special note was the guest posing in 1972 of Arnold and Franco on the Australian Gold Coast in Queensland. They posed solo with long encores, and then performed a duo posing routine for the sell-out audience.
At the 1977 Mr. Australia see the sensational guest posing by SERGE NUBRET. ROGER WALKER, formerly from UK, later placed 6th in the 1980 Mr. Olympia representing Australia.
The top Aussie competitors include FRANK COLOMBERA, PAUL GRAHAM, GRAEME LANCEFIELD, IVAN DJIRLIC, CLYDE BIRD, JOHN KOZIURA, ROBERT NAILON, GEORGE SEREDYNSKI, ROBERT DEEGAN, PETER McCARTHY and SAMMY IOANNIDIS. Plus many more great physiques. Shot on film and digitally transferred to DVD with background music added.
Front Cover Photos: Upper left Sammy Ioannidis, Upper right Serge Nubret, Lower left Frank Colombera, Lower right Franco Columbu.
Photos courtesy Robert Nailon, Malcolm Whyatt and Wayne Gallasch.
Explanation and listing of Contents by Wayne Gallasch:
Back in the 70s in Australia, nobody made any film record of Australian contests. Film was expensive and technology was difficult for recording live events on a low budget. Sound film was way more expensive and out of the question. In 1972 with Arnold Schwarzenegger and Franco Columbu coming to Australia as guest posers at the Southern Universe Contest on the Gold Coast, it was time to shoot some of my first ever major contest footage in Australia. This was followed by my filming at the 1972 Mr Australia. Both contests being held under IFBB rules.
This is a DVD of major historical importance both in the context of Aussie bodybuilding, but also for world bodybuilding. This was the early days of USA superstars making posing tours to overseas countries. It was also Arnold and Franco's first visit to Australia.
The day after the Gold Coast Southern Universe contest, I shot my classic pumping and posing films with Arnold and Franco poolside at the former Chevron Hotel pool in Surfer's Paradise. On the rear cover you will see Robert Nailon's historic photo from the end of my filming session showing Paul Graham with Arnold and Franco. My thanks to Robert for this great photograph. Please click here for details on the ARNOLD & FRANCO SEGMENT as seen as part of Arnold The Early Years.
Paul Graham and Frank Colombera were the leading and most famous bodybuilders in Australia in the early 70s. In these 2 classic 1972 contests you will see Frank come out a very narrow winner over Paul. It has been my privilege to have recorded this early history of the sport in Australia on movie film. My thanks to promoter Bob Bruce who invited me to come and cover his event on film. He took an enormous financial risk at the time in bringing to Australia both Arnold and Franco. Bob is one of the unsung heroes in the history of the sport of bodybuilding in Australia.
The next major international star seen in this DVD is Serge Nubret, who was the special guest poser at the 1977 Mr. Australia won by Ivan Djirlic. This was 2 years after Serge was runner up to Arnold in the 1975 Mr. Olympia. He was in incredible shape and brought the house down, similarly to Arnold and Franco in Australia, 5 years before. Many of the top Australians in this DVD achieved international fame and huge popularity in their careers.

The following is a brief run down on the contents in order in which each contest is seen in this DVD, with some of the major competitors mentioned:
1976 MR ADELAIDE, SOUTH AUSTRALIA
John Koziura (a 10 time winner of the Mr. South Australia title)
Duncan Hartshorne
1976 MR. SOUTH AUSTRALIA
Eddie Turner
John Koziura
Norm Harrison
Victory to John Koziura
Guest Poser: ROGER WALKER (later placed 6th in the 1980 Mr. Olympia)
1972 MR. AUSTRALIA
Sonny Gloynes
Frank Colombera (eventual winner)
Paul Graham
John Koziura
Lineup and Awards
1972 MR. SOUTH AUSTRALIA
Ron Wilton
Eddie Turner
Ross Whitehorn
Norm Harrison (winner)
1972 MR. SOUTHERN UNIVERSE
Guest posing by FRANCO COLUMBU plus an encore
Lineup of Aussie competitors
Robert Nailon
John Koziura
Frank Colombera
Paul Graham
George Seredynski
Clyde Bird
Robert Deegan
Robert Fay
Top 3 awards to Colombera, Graham and Koziura.
Separate top 3 awards to Seredynski, Deegan and Bird.
Duo Guest Posing by ARNOLD & FRANCO
Guest posing by ARNOLD SCHWARZENEGGER plus an encore.
Frank Colombera and Paul Graham posing in closeup
Frank Colombera posing with his 6' tall trophy presented by Bob Bruce
Seredynski and his runners-up pose with Arnold for photos.
1973 MR. SOUTH AUSTRALIA
Ross Whitehorn
Sonny Gloynes
Winner was John Koziura
Guest posing by PETER McCARTHY – Mr. Australia 1967 & 1971.
1978 MR. AUSTRALASIA
See a very young Sammy Ioannidis
Billy Robertson
Posing and posedown by the top 2 guys Ivan Djirlic and Graeme Lancefield.
1977 MR. AUSTRALIA
Ivan Djirlic
Graeme Lancefield
Sammy Ioannidis
Serge Nubret makes the awards to Ivan Djirlic and Graeme Lancefield.
Guest posing by SERGE NUBRET plus an encore.

Running Time: 75 mins

* Available in NTSC DVD Only (Region Free)
* THIS DVD WILL PLAY ON ANY DUAL SYSTEM NTSC / PAL DVD PLAYER AND TV. Or any PC DVD.