Details: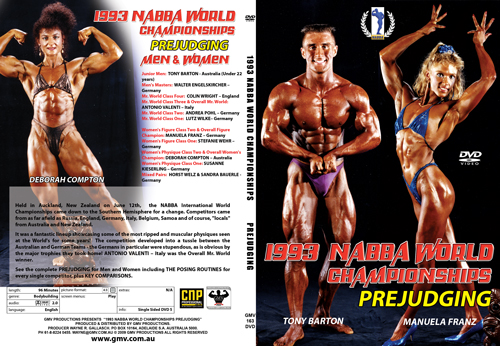 1993 NABBA World Championships: The Prejudging Men & Women
HELD IN AUCKLAND, NEW ZEALAND, JUNE 12th 1993
In 1993 the NABBA International World Championships came down to the Southern Hemisphere, and was held in Auckland, New Zealand, much to the delight of the 3,000 strong crowd who turned out to see the show. Competitors came from as far afield as Russia, England, Germany, Italy, Belgium, Samoa and of course, "locals" from Australia and New Zealand.
It was a fantastic lineup showing some of the most ripped and muscular physiques seen at the World's for some years! The competition developed into a tussle between the Australian and German Teams - the Germans in particular were stupendous, as is obvious by the major trophies they took home!
However, they couldn't beat all of the Aussies. DEBORAH COMPTON who took out the Overall Women's Physique title, and TONY BARTON, Australia's top Junior Physique champion who won his class with a resounding World Junior title. Tony Barton and Manuela Franz are pictured front cover above, and Deborah Compton is pictured rear cover. See more photos below.
In this DVD see the complete PREJUDGING with posing by every single competitor in all classes, men and women, plus all the key comparisons.
The Men's Overall Mr. World title was brilliantly won by ANTONIO VALENTI - Italy.
Please click here for THE SHOW DVD from this event, PCB-164DVD.
RESULTS THE MEN:
Junior Men: TONY BARTON - Australia (Under 22 years)
Men's Masters: WALTER ENGELSKIRCHER - Germany
Mr. World Class Four: COLIN WRIGHT - England
Mr. World Class Three & Overall Mr. World: ANTONIO VALENTI - Italy
Mr. World Class Two: ANDREA POHL - Germany
Mr. World Class One: LUTZE WILKE - Germany
THE WOMEN:
Women's Figure Class Two & Overall Figure Champion: MANUELA FRANZ - Germany
Women's Figure Class One: STEFANIE WEHR - Germany
Women's Physique Class Two & Overall Women's Physique Champion: DEBORAH COMPTON - Australia
Women's Physique Class One: SUZANN KIESERLING - Germany
Mixed Pairs: HORST WELZ & SANDRA BAUERLE - Germany

Running Time: 95 mins

* Available in NTSC DVD Only (Region Free)
* THIS DVD WILL PLAY ON ANY DUAL SYSTEM NTSC / PAL DVD PLAYER AND TV. Or any PC DVD.