Details: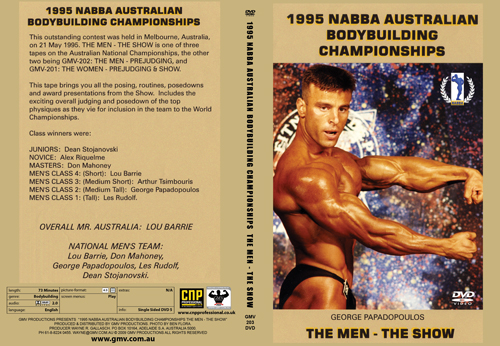 1995 NABBA Australian Bodybuilding Championships: The Men - The Show
Australia's premier event, the NABBA National Championships was held in Melbourne, Victoria on 21 May, before a capacity audience.
See all of the posing routines through to the final award OVERALL AWARD to LOU BARRIE. Again see all the posing routines including the controversial impromptu strip routine by Colin Murphie - pure showbiz!! This has to be seen to be believed!
Includes the posedowns and class awards as well as the judging and posedown for the Australian team to the World Championships. The team was LOU BARRIE, DON MAHONEY, GEORGE PAPADOPOULOS (pictured above), LES RUDOLF and DEAN STOJANOVSKI.
1995 NABBA AUSTRALIA RESULTS:
THE MEN
OVERALL WINNER: Lou Barrie - WA
MEN'S JUNIORS
1. Dean Stojanovski NSW
2. Paul Smith NSW
3. Phil Smart WA
4. Brian Hession VIC
5. Mike Menzies VIC
MEN'S NOVICE
1. Alex Riquelme Vic
2. Richard McBeth SA
3. Syd Collins WA
MEN'S MASTERS
1. Don Mahoney VIC
2. James Smith WA
3. Graeme Lancefield VIC
4. Tom Long WA
5. Vince Ferrarella VIC
6. Paul Roe SA
7. John Bettons NSW
MEN'S OPEN CLASS 4 - SHORT
1. Lou Barrie VIC
2. Colin Murphie NSW
3. Jim Kotantonis VIC
4. Nicky Lisof NSW
5. Barry Dove VIC
MEN'S OPEN CLASS 3 – MEDIUM SHORT
1. Arthur Tsimbouris VIC
2. Tony Rizzo VIC
MEN'S OPEN CLASS 2 – MEDIUM TALL
1. George Papadopoulos VIC
2. Steven Koutsbis VIC
3. George Ioannou VIC
MEN'S OPEN CLASS 1 – TALL
1. Les Rudolf VIC
2. Mark Trewartha SA
3. Steve Taylor SA
4. Michael Wiss WA
5. John Rizzo
MEN'S OVERALL
1. Lou Barrie
2. Don Mahoney
3. George Papadopoulos
4. Les Rudolf
5. Colin Murphie
6. Arthur Tsimbouris

Running Time: 75 mins

* Available in NTSC DVD Only (Region Free)
* THIS DVD WILL PLAY ON ANY DUAL SYSTEM NTSC / PAL DVD PLAYER AND TV. Or any PC DVD.