Details: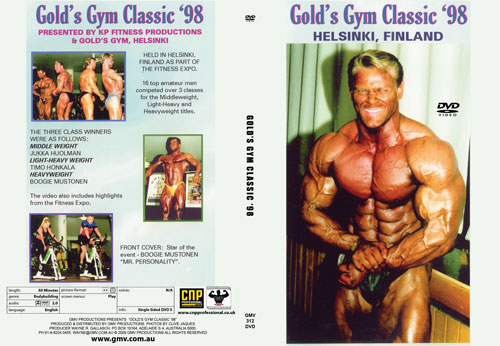 1998 Gold's Gym Classic - Finland
Presented by KP Fitness Productions & Gold's Gym, Helsinki.
This Men's only event was held in Helsinki, Finland, as part of the 1998 Fitness Expo. 16 top amateur men competed over 3 classes for the Middleweight, Light-Heavy and Heavyweight IFBB titles.
Boogie Mustonen "Mr. Personality" was the Overall Winner.
Three class winners were as follows -
Middle Weight - Jukka Huolman
Light-Heavy Weight - Timo Honkala
Heavyweight - Jari Boogie Mustonen
Boogie Mustonen is pictured front cover and currently competes in the NABBA Universe Class 1. Please click here to see him in the 2005 NABBA Universe Men's Prejudging, PCB-622DVD.

Please click here to see Boogie working out for our cameras in Men of Muscle #4 - More Men with Attitude, PCB-317DVD. This workout footage was shot on the day before the contest in Helsinki.
The DVD also includes exciting highlights from the Finnish Fitness and Bodybuilding.
COMPLETE RESULTS:
Middleweight Class
1. Jukka Huolman
2. Janne Antila
3. Tuomas Alhonen
4. Marko Pettersson
5. Veikko Niiranen
6. Kyei Augustine
Light-heavyweight Class
1. Timo Honkala
2. Tero Pietila
3. Henry Juvela
4. Kari Sairanen
5. Kari Valtonen
Heavyweight Class
1. Boogie Mustonen
2. Vesa Kerala
3. Ari Uusitalo
4. Veijo Kalliokulja
5. Aimo Tanskanen

Running Time: 65 mins

* Available in NTSC DVD Only (Region Free)
* THIS DVD WILL PLAY ON ANY DUAL SYSTEM NTSC / PAL DVD PLAYER AND TV. Or any PC DVD.