Details: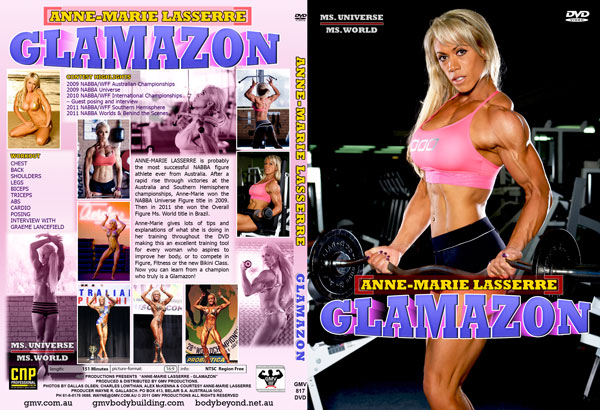 Anne-Marie Lasserre - Glamazon Ms. World & Ms. Universe Figure Champion
Anne-Marie Lasserre is probably the most successful NABBA figure athlete ever from Australia. After a rapid rise through victories at the Australia and Southern Hemisphere championships, Anne-Marie won the NABBA Universe Figure title in 2009. Then in 2011 she won the Overall Figure Ms. World title in Brazil.
Anne-Marie gives lots of tips and explanations of what she is doing in her training throughout the DVD making this an excellent training tool for every woman who aspires to improve her body, or to compete in Figure, Fitness or the new Bikini Class. Now you can learn from a champion who truly is a Glamazon!
- FANTASTIC PHOTO GALLERY & BIO -
MAIN DVD CONTENT
Workout – Shot at Graeme Lancefield's Athletique Health Club in Melbourne, VIC.
(Includes posing after most sets)
Chest
Back
Shoulders
Legs
Biceps
Triceps
Abs
Cardio
Posing
Interview with Graeme Lancefield.
Informal footage behind the scenes from Graeme Lancefield at the NABBA Worlds and in the gym in Brazil (approx. 25 mins)


CONTEST HIGHLIGHTS
2009 NABBA/WFF Australian Championships
2009 NABBA Universe
2010 NABBA/WFF International Championships – Guest posing and interview
2011 NABBA/WFF Southern Hemisphere
2011 NABBA Worlds
EXTRAS
Photo Gallery
Car flipping
PHOTOGRAPHERS
Dallas Olsen
Charles Lowthian
Alex McKenna
CONTEST HISTORY:
Overall Miss World Figure 2011 NABBA
Miss World Runner Up Figure 2010 NABBA
Miss Southern Hemisphere Tall Class Figure 2010 NABBA
Miss Universe Figure 2009 NABBA
Miss Australia Figure 2009 NABBA
Miss Queensland Figure 2009 NABBA
Miss Elite Figure Runner Up 2007 IFBB
Miss Australia 2006 IFBB
Miss Queensland 2006 1FBB
Miss Australia Runner Up 2005 IFBB
Miss Queensland 2005 IFBB
Miss Australia 2005 IFBB
Miss Queensland 2003 IFBB
Miss Australia 2003 IFBB
Miss Australia 2002 Runner Up
Miss Queensland 2002
SPECIAL THANKS
First of all, Anne-Marie would like to convey her special thanks to her family and partner Trent Morris for their support.
ANNE-MARIE WOULD ALSO LIKE TO THANK:
Graeme Lancefield - NABBA President for Australia
Mark Ryan QLD NABBA Promoter/ Industry Health Club
Logan Robson (Sacrifice personal trainer)
Jon Davey and Alison Mathews- "Prepared to win contest prep"
Luke and Kristy of East Coast Supplements
Dallas Olsen
Ian Adams - IAP
Nelson Santos and NABBA International
Charles Lowthian
NABBA UK
'El Rico' star of 'Among Dead Men'
A PCB PLATINUM RELEASE ON DVD. Most of the DVD was shot in wide screen HDV.

Running Time: 155 mins

* Available in NTSC DVD Only (Region Free)
* THIS DVD WILL PLAY ON ANY DUAL SYSTEM NTSC / PAL DVD PLAYER AND TV. Or any PC DVD.