Details: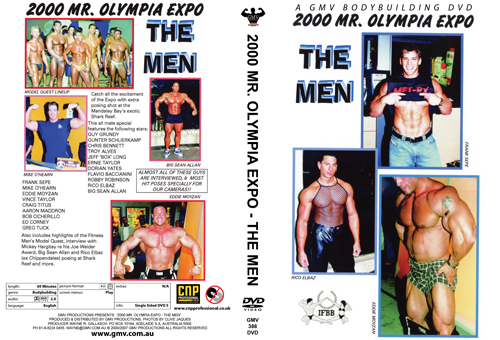 2000 Mr. Olympia Expo: The Men

Catch all the excitement of the Mr Olympia Expo with extra posing shot by GMV at the Mandalay Bay's exotic Shark Reef location.

ALMOST ALL OF THESE GUYS ARE INTERVIEWED, & MOST HIT POSES SPECIALLY FOR OUR CAMERAS!!

Of the major guys listed below, by our calculations, 12 of them have competed at some stage in an Olympia contest. See if you can name them!
Also includes highlights of the Fitness Men's Model Quest, interview with Mickey Hargitay re his Joe Weider Award, Big Sean Allan and Rico Elbaz (ex
Chippendales) posing at Shark Reef, plus child strength and physique freak Richard Sandrak and more. Richard's story has been featured on mainstream TV.

This all male special features the following stars:


GUNTER SCHLIERKAMP
CHRIS BENNETT
TROY ALVES
JEFF 'BOX' LONG
ERNIE TAYLOR
DORIAN YATES
FLAVIO BACCIANINI
ROBBY ROBINSON
RICO ELBAZ
BIG SEAN ALLAN
FRANK SEPE
MIKE O'HEARN
EDDIE MOYZAN
VINCE TAYLOR
CRAIG TITUS
AARON MADDRON
BOB CICHERILLO
ED CORNEY
GREG TUCK
GUY GRUNDY
RICHARD SANDRAK

Running Time: 65 mins



* Available in NTSC DVD Only (Region Free

)
* THIS DVD WILL PLAY ON ANY DUAL SYSTEM NTSC / PAL DVD PLAYER AND TV. Or any PC DVD.