Details: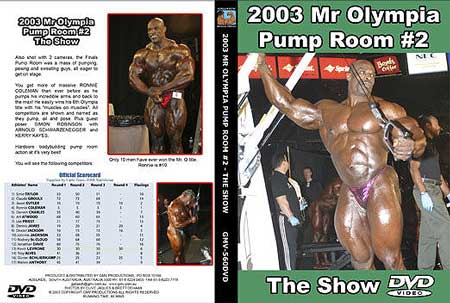 2003 Mr Olympia Pump Room #2 - The Show
Also shot with 2 cameras, the Finals Pump Room was a mass of pumping, posing and sweating guys, all eager to get on stage.
You get more of massive RONNIE COLEMAN than ever before as he pumps his incredible arms and back to the max! He easily wins his 6xth Olympia title with his "muscles on muscles". All competitors are shown and named as they pump, oil and pose. Plus guest poser SIMON ROBINSON with ARNOLD SCHWARZENEGGER and KERRY KAYES.
Hardcore bodybuilding pump room action at it's very best!
DVD contains Bonus Photo Gallery
You will see the following competitors:
1 Ronnie Coleman
2 Jay Cutler
3 Dexter Jackson
4 Dennis James
5 Günter Schlierkamp
6 Kevin Levrone
7 Darrem Charles
8 Troy Alves
9 Melvin Anthony
10 Ernie Taylor
11 Johnny Jackson
12 Rodney St. Cloud
13 Art Atwood
14 Claude Groulx
15 Lee Priest
16 Jonathan Davie

Running Time: 90 mins

* Available in NTSC DVD Only (Region Free)
* THIS DVD WILL PLAY ON ANY DUAL SYSTEM NTSC / PAL DVD PLAYER AND TV. Or any PC DVD.