Details: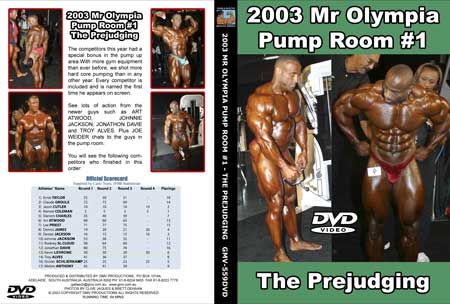 2003 Mr Olympia Pump Room #1 - The Prejudging

The competitors this year had a special bonus in the pump up area. With more gym equipment than ever before, we shot more hard core pumping than in any other year. Every competitor is included and is named the first time he appears on screen.

See lots of action from the newer guys such as ART ATWOOD, JOHNNIE JACKSON, JONATHON DAVIE and TROY ALVES. Plus JOE WEIDER chats to the guys in the pump room.
You will see the following competitors who finished in this order:
1. Ronnie Coleman
2. Jay Cutler
3. Dexter Jackson
4. Dennis James
5. Gunter Schlierkamp
6. Kevin Lvrone
7. Darrem Charles
8. Troy Alves
9. Melvin Anthony
10. Ernie Taylor
11. Johnnie Jackson
12. Rodney St. Clould
13. Art Atwood
14. Claude Groulx
15. Lee Priest
16. Jonathan Davie

Running Time: 75 mins

* Available in NTSC DVD Only (Region Free)
* THIS DVD WILL PLAY ON ANY DUAL SYSTEM NTSC / PAL DVD PLAYER AND TV. Or any PC DVD.