Details: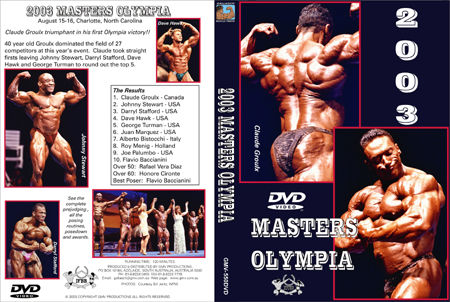 2003 Masters Olympia
August 15-16, Charlotte, North Carolina
Claude Groulx triumphant in his first Olympia victory!!
40 year old Groulx dominated the field of 27 competitors at this year's event. Claude took straight firsts leaving Johnny Stewart, Darryl Stafford, Dave Hawk and George Turman to round out the top 5.
See the complete prejudging , all the posing routines of every single competitor, posedown and awards.
Complete Results:
1 Claude Groulx
2 Johnny Stewart
3 Darryl Stafford
4 David Hawk
5 George Turman
6 Juan Marquez
7 Alberto Bistocchi
8 Roy Menig
9 Joe Palumbo
10 Flavio Baccianini
11 Dayo Audi
12 Greg Dwyer
13 Lawrence Marshall
14 Nicolae Giurgi
15 Lee Apperson
16 Behnam Samimy
17 Leon Brown
The following did not place:
Josef Rac
Mauro Grosso
Cristian-Ovidiu Mihailescu
Jim Pedone
William Leonard
Honore Cironte
Emeric Delczeg
Stan Frydrych
Ken Jones
Rafael Vera Diaz

Best Poser
Flavio Baccianini

Running Time: 120 mins

* Available in NTSC DVD Only (Region Free)
* THIS DVD WILL PLAY ON ANY DUAL SYSTEM NTSC / PAL DVD PLAYER AND TV. Or any PC DVD.