Details: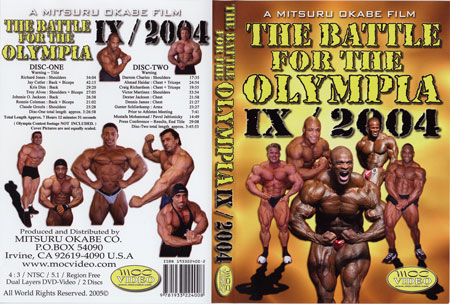 The Battle for the Olympia 2004 2 DVD Set
The long-awaited Battle 2004 is now available!! Predominantly workout from 14 great Olympia contenders.
Mitsuru Okabe produces one of the most powerful and hard core bodybuilding videos since 1996.
Mitsuru Okabe, the premier USA videographer, has now released the Battle for the Olympia 2004. This DVD is the ninth in the annual series of pre Olympia prep videos featuring many of the top competitors training for the big show. Clocking in at a massive seven hours and thirteen minutes on two discs, Battle 2004 is the biggest bodybuilding/training DVD released to date. This mammoth offering has more muscle than ever before, but still at the same price as in previous years.
Disc-One:
Richard Jones - Shoulders 34:04
Jay Cutler - Back and Biceps 42:15
Kris Dim - Back 29:20
Troy Alves - Shoulders and Biceps 27:05
Johnnie O. Jackson: Back 26:38
Ronnie Coleman: Back and Biceps 21:02
Claude Grouix: Shoulders 25:28
Disc-One total length approx. 3:26:58
Disc-Two:
Darrem Charles: Shoulders 17:35
Ahmad Haidar: Chest and Triceps 24:54
Craig Richardson: Chest and Triceps 19:55
Victor Martinez: Shoulders 33:34
Dexter Jackson: Chest 21:58
Dennis James: Chest 21:27
Gunter Schlierkamp: Arms 23:27
Prior to Athletes Meeting 7:41
Mustafa Mohammad / Pavol Jablonicky 14:49
Press Conference - Results 29:08
Disc-Two total length approx. 3:45:53

Running Time: 433 mins

* Available in NTSC DVD Only (Region Free)
* THIS DVD WILL PLAY ON ANY DUAL SYSTEM NTSC / PAL DVD PLAYER AND TV. Or any PC DVD.