Details: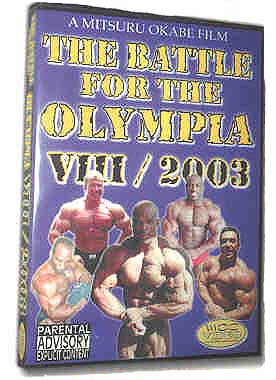 The Battle for the Olympia 2003 2 DVD Set
The long-awaited Battle 2003 is now available!! Predominantly workout from 12 great Mr. Olympia contenders.
Disc 1 - Disc 2

Melvin Anthony - back Ronnie Coleman
Troy Alves - back Dennis James
Dexter Jackson - shoulders, arms Günter Schlierkamp
Claude Groulx - arms, chest, shoulders Backstage - judging, expo
Darrem Charles - arms Backstage - show
Art Atwood - back, biceps Jay Cutler - chest, biceps
Rodney St. Cloud - chest Jonathan Davie - chest, arms, legs
Total time approx 3 hours Total time approx 2 hours 28 mins

Running Time: 338 mins

* Available in NTSC DVD Only (Region Free)
* THIS DVD WILL PLAY ON ANY DUAL SYSTEM NTSC / PAL DVD PLAYER AND TV. Or any PC DVD.