Details: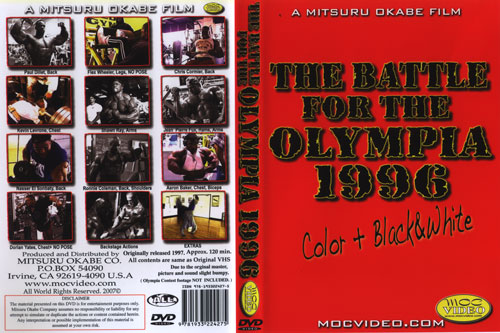 The Battle for the OLYMPIA 1996

This is where the "Battle" legend all began! The camera follows some of the top pros as they train and prepare for the 1996 Mr Olympia showdown! Let the battle begin!

In this DVD see training, posing, talking and pumping as Paul Dillett, Flex Wheeler, Chris Cormier, Kevin Levrone, Shawn Ray, JP Fux, Nasser, Ronnie Coleman, Aaron Baker and king Dorian Yates do their stuff. Includes backstage activities at the 1996 Mr. Olympia in Chicago.

This is one of the most powerful and hard core bodybuilding videos of all time.

"The Battle for the Olympia" is the most well-known series of DVDs after the Mr. Olympia series. This is DVD #1 from 1996.

--------------------------------------------------------------------------------

Here is a brief summary of the 1996 Mr. Olympia:
The winner Dorian Yates was as incredible as ever such that no one could touch him. However, Nasser looked awesome and massive, with his back much bigger, wider and better than last year. Many people thought Nasser should of been crowned #1. However it all ended in disaster for poor Nasser.

Probably the biggest surprise of the night was Shawn Ray's second place finish, over Nasser! Shawn looked incredible and the top five place finishers all looked great, and almost everyone said that this was the best Mr. Olympia ever. Judging by how close the results were, it was almost a case of anyone in the top 3 placings. Only later on did we learn that Nasser failed the diuretics drug test, and was disqualified (he was announced in 3rd place that evening).
A surprise in 9th place was the sensational Charles Clairmonte who was completely overlooked.

1996 Mr. Olympia Results:
September 21, 1996 in Chicago, Illinois.

1 Dorian Yates England
2 Shawn Ray USA
3 Kevin Levrone USA
4 Flex Wheeler USA
5 Paul Dillett Canada
6 Ronnie Coleman USA
7 Chris Cormier USA
8 Jean Pierre Fux Switzerland
9 Charles Clairmonte Barbados
10 Mike Francois USA
11 Aaron Baker USA
12 Roland Cziurlok Germany
13 Mike Matarazzo USA
Disqualified: Nasser El Sonbaty Yugoslavia

Running Time: 125 mins

* Available in NTSC DVD Only (Region Free)
* THIS DVD WILL PLAY ON ANY DUAL SYSTEM NTSC / PAL DVD PLAYER AND TV. Or any PC DVD.