Details: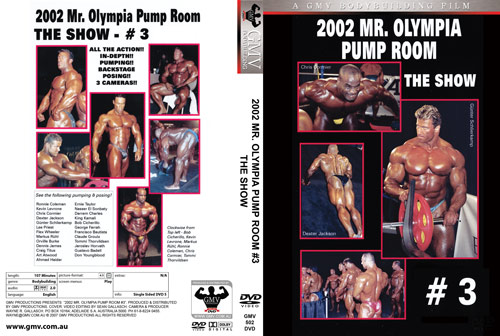 2002 Mr. Olympia Pump Room #3

"This tape is ALL ACTION, we did not miss a single rep."

Get up close & personal at the Evening Show pump room. It's every man for himself in these tense minutes before they go out on stage to do battle for the Mr. Olympia crown. See them fight it out for the weights, with lots of pumping and oiling, as well as some very personal scenes in the photo booth.

All 25 competitors!

Ronnie Coleman
Kevin Levrone
Chris Cormier
Dexter Jackson
Gunter Schlierkamp
Lee Priest
Flex Wheeler
Markus Ruhl
Orville Burke
Dennis James
Craig Titus
Art Atwood
Ahmad Haidar
Ernie Taylor
Nasser El Sonbaty
Darrem Charles
King Kamali
Bob Cicherillo
George Farrah
Francisco Bautista
Claude Groulx
Tommi Thorvildsen
Jaroslav Horvath
Gustavo Badell
Don Youngblood

This is the 2002 Mr. Olympia: The Pump Room #3 - The Show - # 3 of 3.



Running Time: 110 mins

* Available in NTSC DVD Only (Region Free)
* THIS DVD WILL PLAY ON ANY DUAL SYSTEM NTSC / PAL DVD PLAYER AND TV. Or any PC DVD.