Details: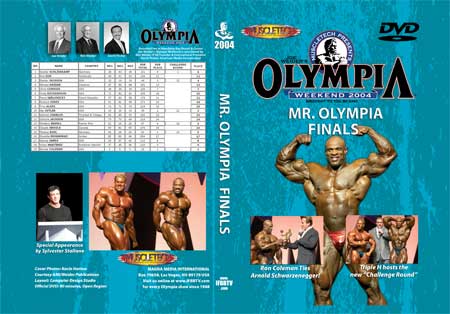 2004 Mr. Olympia - The Finals
DVD version: See Ronnie Coleman's amazing victory over Jay Cutler - by just three points. You'll also see the controversial new Challenge Round. Is it worth all the hoo-haa ..... or not? See for yourself.
Ronnie Coleman survives the first-ever "Challenge Round" with live judging in front of the audience! It all came down to the final pose. Jay Cutler behind by only one point - 21-20 with the chance to win 2 points and become Mr. Olympia. But Big Ron prevailed with his gargantuan physique, and even survived several "abs & thighs" pose challenges.
Also see the outcome of Gustavo Badell-Jackson battle as he reverses his position with Dexter Jackson to take 3rd place. Will Gustavo be a future winner? Only time will tell.
You'll see the entire Challenge Round, hosted by WWE's Triple H, plus an introduction by Sylvester Stallone and a speech by Arnold Schwarzenegger. A star-studded night.

2004 Mr. Olympia Results
October 30, 2004 at Las Vegas, Nevada
The new 'Challenge Round' was introduced, changing the way the final top six were scored in the last round. The top six competitors scores were discarded after round three, and only the final round mattered in who would win. In the new format, Dexter was the loser, and Gustavo was the winner. The difference was worth $10,000. Ronnie still was the clear winner.

1 Ronnie Coleman USA
2 Jay Cutler USA
3 Gustavo Badell Puerto Rico
4 Dexter Jackson USA
5 Markus Ruhl Germany
6 Gunter Schlierkamp Germany
7 Chris Cormier USA
8 Dennis James USA
9 Victor Martinez Dominican Republic
10 Darrem Charles Trinidad
11 Pavol Jablonicky Czech Rep
12 Kris Dim USA
13 Ahmad Haidar Lebanon
14 Johnnie Jackson USA
15 Troy Alves USA
16 Craig Richardson USA
17 Mustafa Mohammad Jordan
18 Richard Jones USA
19 Claude Groulx Canada

Running Time: 95 mins

* Available in NTSC DVD Only (Region Free)
* THIS DVD WILL PLAY ON ANY DUAL SYSTEM NTSC / PAL DVD PLAYER AND TV. Or any PC DVD.